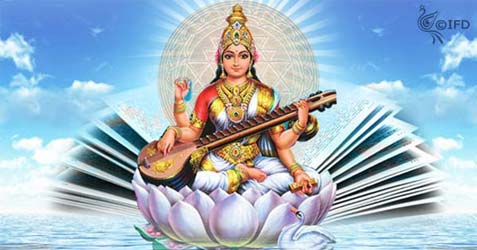 Saraswati Puja, Vasant Panchami 2023
26 January 2023 (Thursday)
Vasant Panchami falls on the fifth day of spring according to Hindu calendar. Vasant Panchami has a specific meaning; 'Vasant' means spring, whereas 'Panchami' means the fifth day. Vasant Panchami is the fifth day of the Indian month of Magh (January to February). On this day Hindus worship Goddess Saraswati, the goddess of knowledge, music, art and culture. Vasant Panchami is also known as 'Shri Panchami' and 'Saraswati Panchami'.
Many astrologers consider Vasant Panchami as Abujha day which is auspicious to start all good work. According to this belief whole Vasant Panchami day is auspicious to perform Saraswati Puja. Although there is no special time to perform Saraswati Puja on Vasant Panchami day one should make sure that Puja is done when Panchami Tithi is prevailing. It is important to do Saraswati puja within Panchami Tithi.
Ratha Yatra, the Festival of Chariots of Lord Jagannatha is celebrated every year at Puri, the temple town in Orissa, on the east coast of India. This festival is celebrated every year on "Ashadhasukladwitiya" ie the 2nd day of Shukla Paksha (waxing cycle of moon) in the month of Asadh, the 3rd month according to the Hindu lunar calendar. Purvahna Kaal, which falls between late morning and early afternoon, is considered to decide Vasant Panchami day. Vasant Panchami is celebrated on the day when Panchami Tithi prevails during Purvahna Kaal. Due to which Vasant Panchami might also fall on Chaturthi Tithi.
Saraswati Puja is performed to pay allegiance to the Goddess of learning. Saraswati Puja is celebrated primarily over eastern parts of India. Traditionally during this festival most educational institutions organize special prayer or puja for Saraswati. On this day the students also worship the books, copies and pens along with the Goddess Saraswati. Musicians worship their instruments and the Painters worship their paint-brushes and colours. Though Saraswati Puja is the worship of the goddess of education students do not study on this day rather they keep the books in front of the idol with a belief that the divine goddess will shower blessing on the books.
On Saraswati Puja children are taught to write their first words, this ritual of initiating education to children is known as 'Akshar-Abhyasam' or 'Vidya-Arambham/Praasana' or 'Hate khori'. Children generally fly kites on this auspicious occasion. The festival of the students, Saraswati puja was celebrated in style, with devotion and amidst merriment. Students' communities have erected small mandaps, where they have organized the puja. Well-dressed students were seen at schools, tuitions and on roads where they indulged in celebrations. The only hitch was the shortage of pandits. Puja organizers had to wait for hours before they were able to conduct the ritual.
The colour yellow also plays an important role in this festival. People usually wear yellow garments, yellow sweets are consumed within the families and Saraswati is worshiped in a yellow dress and offered yellow flowers, yellow colored sweets, gulal, fruits, roli and moli. Bright palash flowers are offerd that are a part of the worship. Kul, a type of fruit particularly available during this time is a must in this puja.
Related Links
Saraswati Puja, Vasant Panchami
Accessories