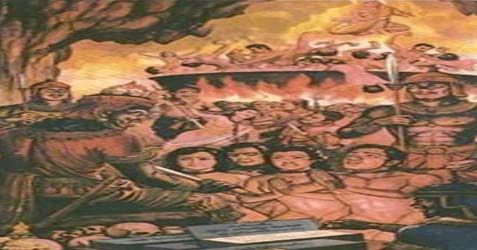 The fifth day of Deepawali or Diwali is celebrated as Bhaiya Dooj, popularly known as Bhai Dooj. The name itself denotes the day of the festival i.e. it falls on Dooj, the second day after the new moon. This festival marks the love between the sisters and brothers and is known to strengthen the bond of care and affection between the two. Through the means of this festival the sisters commemorate their brothers with an auspicious tilak or a vermilion mark on their foreheads.
There are several popular legendary stories to explain the foundation of Bhai Dooj celebration.
The story of Yamaraj and Varni
According to the legends, linked with the Bhai Dooj tells the story of God Surya who got married to a princess by the name of Samjna, also pronounced as Sangya. She gave birth to twins who were named Yama and Varni or the river Yamuna. After some time Samjna left God Surya and left behind her exact replica by the name of 'Chaya' so that her husband would not come to know about her absence.
Chaya turned out to be a very cruel stepmother who persuaded God Surya to drive both Yama and Varni out of their home. Varni fell to the earth and turned into river Yamuna while Yama went to the underworld and became the King of Death. In the course of time Varni married a young prince but kept on missing her brother. Yama also kept yearning for her sister and one day he decided to pay her a visit.
On hearing about his visit Varni made a lot of preparations and organized a great feast in his honor. Yama on receiving so much love from his sister got overwhelmed and told Varni that since he hasn't brought any gift for her so she should herself ask for any appropriate gift. Varni asked him to grant her a boon according to which every brother on the particular day of Bhai Dooj would have to pay a visit to his sister's home. Yama happily granted this wish of her and also said that any brother who would gift a nice present to his sister on this day would be granted with a long and healthy life. He gave his sister a Vardhan (a boon) that whosoever receives tilak from his sister on this day will be blessed on this day shall be liberated from all sins. They will achieve Moksha or final emancipation.
Since that day Bhai Dooj came to be celebrated with much fervor with sisters applying tilak on their brother's forehead and brothers giving precious gifts to their sisters as a token of their love and affection for them.
The story of Lord Krishna's & Subhadra
According to another legend associated with the celebrations of Bhai Dooj, Lord Krishna went to her sister Subhadra's home after killing the demon Narakasura. Subhadra welcomed him in the traditional way by showing him with lamps, flowers, sweets an applied vermilion mark (tilak) on his forehead of her sisterly protection. Since that day sisters adopted this practice of applying vermilion mark on their brother's forehead on the day of Bhai Dooj.
The story of Raja Nandi Vardhan & Sudarshana
Another myth behind this begins as when Bhagawaan Mahavir attained nirvana, his brother Raja Nandi Vardhan was distressed because he missed him very badly. At that moment he was comforted by his sister Sudarshana. Since then, women have been revered during this festival by their brothers. Therefore, Bhai Duj is not only significant for the people following Hinduism, but also important for the Buddhists of India. By celebrating Bhai Duj, they put an end to the celebration of the Nirvana of Lord Mahavir.
Diwali is a personal, people-oriented festival when enmities are forgotten; families and friends meet, enjoy and establish a word of closeness. Reflecting this essence, Bhai Dooj has its own importance in continuing to maintain the love between brothers and sisters for it is the day of food-sharing, gift-giving and reaching out to the inner most depths of the hearts.
As a festival of light and beauty it encourages artistic expressions through home-decorations stage-plays, elocution competitions singing and dancing programs, making gift items and making delectable sweets thereby discovering new talents of younger people. As a result innumerable communities with varying cultures and customs mingle together to make Bhai Dooj celebrations a very happy occasion for all. The festival of Diwali is not complete without Bhaiya Dooj in the Hindi-speaking belt, "Bhav--Bij" in the Marathi-speaking communities, "Bhai Phota" to the Bengalees and in Nepal by the name of "Bhai-Tika".