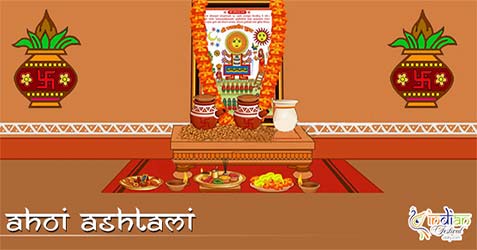 Ahoi ashtami is celebrated on the eighth day of the waning period of the moon (Krishna Paksha) in the Hindu month of Kartik. It is widely observed in North India. Ahoi Astami usually falls eight days before "Diwali".
Once there lived a woman in a village along with her seven sons. One day in the month of Kartik, just before the few days of "Diwali" she wanted to repair and decorate her house and for that purpose she went to the forest to fetch some soil. While she was digging some soil near a den, accidentally her spade hit and killed a lion cub sleeping inside the den. She felt so sad but could do nothing at that moment.
After that incident in a year's time she lost all her seven sons one by one. Naturally the woman was so sad and realized that everything happened due to the accidental death of the cub by her. She told some other ladies what happened in the forest and they advised her to keep fasting and worship "Ahoi Mata" with full devotion.
She worshiped "Ahoi Mata" on Kartik Krishna Astami. The Goddess "Ahoi" was pleased with her devotion and gave her a boon of long lives of her seven sons. Soon after that her al sons came back to home alive.