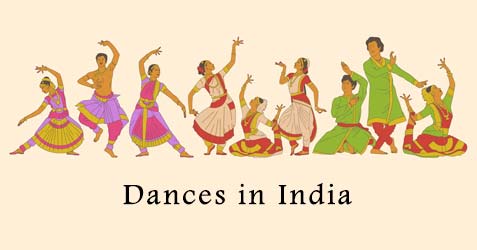 The dance heritage of India is at least 5000 years old. A dancing girl figurine was found in the ruins of Mohenjodaro and is dated approximately 2nd Century B.C. The wall paintings of Ajanta and Ellora, the sculptures of Khajuraho, the temple walls of Hoysala dynasty, stand ample evidence for popularity of Indian dances from ancient times. Through the centuries the dances have been used as a vehicle of worship and expression of emotions in India.
The Indian dances have sprung from the religious urges of her people. Its thematic contents are based on the rich mythological lore of the country. The dance technique is based on a few ancient treatises, like the Natya Shastra of sage Bharata, which were written nearly two millennia ago.
The Indian dances consists of three distinct types. "Nritta" is pure and simple dance with movements of body and limbs. Nritta are rhythmical and repetitive elements, i.e. it is dance proper. "Nritya" is linked with facial expressions, hand gestures and symbolic body poses. Natya is the dramatic art, and is a language of gestures, poses and mime. i.e. Abhinaya. "Natya" has the elements of a drama which is introduced through the use of spoken world. Nritya is a combination of Nritta and Natya. All the types involve the use of "mudras", which are well developed types of gestures during the dance. The dancers use their entire body to communicate with the audience.
Nritta can be broadly divided into Chari, Karana, Angahara and Mandala.
One-leg movement are called Chari.
Two-leg movements are Karana.
3 Karanas make a Khanda.
3 to 4 Khandas make a Mandala.
4 to 9 Karanas make a Angahara.
4 to 5 Angaharas also make a Mandala.
108 Karanas and 32 Angaharas are defined in Natyashatra. The 13 Nritta Hastas are used to perform Nritta. The rythmic body movements along with hand gestures are called aduvus. A number of aduvus constitute a jati. Jati will generally end with a Muktaya or Teermana.
There are different types of Aduvus: Tattaduvu, Mettaduvu, Nataduvu, Kattaduvu, Kudittamettaduvu, Maiaduvu, Mandiaduvu, Jati, Nadai, Ardi. There are 12 aduvus in each type, making it 120 aduvus in total. Only about 70-80 are generally practised by an average classical Indian dancer. Aduvus are often confused with the 108 Karanas carved in the Chidambaram Temple in Tamilnadu, India.
Indian dances and music are not only seen as ways to celebrate, but also as offerings of worship and thanks giving to the deity. All the dance forms were structured around the nine 'Rasa' or emotions, Hasya (happiness), Shoka (sorrow), Krodha (anger), Karuna (compassion), Bhibatsa (disgust), Adhbhuta (wonder), Bhaya (fear), Viram (courage) & Shanta (serenity).
Dances in India
Dance in India covers a wide range of dance and dance theatre forms, from the ancient classical or temple dance to folk and modern styles.

Three best-known deities, Shiva, Kali and Krishna, are typically represented dancing. There are hundreds of Indian Folk Dances such as Bhangra, Garba and special dances observed in regional festivals. India offers a number of Classical Indian Dance forms, each of which can be traced to different parts of the country.
Classical Indian Dance
Bharatanatyam - Tamil Classical Dance
Odissi - Orissa Classical Dance
Kuchipudi - Telugu Classical Dance
Manipuri - Manipur Classical Dance
Mohiniaattam - Kerala Classical Dance
Sattriya - Asamese Classical Dance
Kathakali - Malayalam Classical Dance
Kathak - North Indian Classical Dance
The Dance performed by Lord Shiva is known as Tandava, virile aspect. The tandava performed with bliss is called Ananda Tandava. The tandava of the violent and destructive aspect is called Rudra Tandava. There are 7 types of Tandava in classical Indian dance of Bharatanatyam :
Ananda Tandava,
Tripura Tandava,
Sandhya Tandava,
Samara Tandava,
Kaali tandava,
Uma Tandava and
Gauri Tandava.
Indian Folk Dance
Indian folk and tribal dances are simple dances, and are performed to express joy. Folk and tribal dances are performed for every possible occasion, to celebrate the arrival of seasons, birth of a child, a wedding and festivals. The dances are extremely simple with minimum of steps or movement. The dances burst with verve and vitality. Men and women perform some dances exclusively, while in some performances men and women dance together. On most occasions, the dancers sing themselves, while being accompanied by artists on the instruments. Each form of dance has a specific costume. Most costumes are flamboyant with extensive jewels.
List of Indian Folk Dances by Indian States and Union Territories:
| | | |
| --- | --- | --- |
| Sl. No. | States | Folk Dance |
| 1. | Andhra Pradesh | Thapetta Gullu |
| 2. | Arunachal Pradesh | Bardo Chham |
| 3. | Assam | Bihu |
| 4. | Bihar | Karma/Munda |
| 5. | Chhattisgarh | Panthi, Raut Nacha |
| 6. | Goa | Koli, Tarangmel |
| 7. | Gujarat | Dandiya, Garba, Padhar, Raas |
| 8. | Haryana | Ghoomar |
| 9. | Himachal Pradesh | Kinnauri Nati |
| 10. | Jammu and Kashmir | Dumhal (Kashmir), Spaw (Ladakh) |
| 11. | Jharkhand | |
| 12. | Karnataka | Dollu Kunitha, Yakshagana |
| 13. | Kerala | Padayani |
| 14. | Madhya Pradesh | Charkula, Jawara, Tertali |
| 15. | Maharashtra | Pavri Nach, Tamasha/Lavani, Dindi |
| 16. | Manipur | Dol cholam, Thang Ta |
| 17. | Meghalaya | |
| 18. | Mizoram | Cheraw Dance |
| 19. | Nagaland | |
| 20. | Orissa | Ruk Mar Nacha (Chhau dance ), Dalkai, Goti Pua |
| 21. | Punjab | Bhangra, Giddha |
| 22. | Rajasthan | Chari, Kalbelia, Ghoomar, Fire Dance, Kachhi Gori |
| 23. | Sikkim | Singhi Chham |
| 24. | Tamil Nadu | Devarattam, Kummi, Poikal Kudirai Attam, Kamandi or Kaman Pandigai, Kolattam, Mayil Attam or Peacock dance, Theru Koothu |
| 25. | Tripura | Hojagiri |
| 26. | Uttarakhand | |
| 27. | Uttar Pradesh | |
| 28. | West Bengal | |
| | | |
| --- | --- | --- |
| Sl. No. | Union Territories | Folk Dance |
| 1. | Andaman and Nicobar Islands | Nicobarese dances |
| 2. | Chandigarh | |
| 3. | Dadra and Nagar Haveli | |
| 4. | Daman and Diu | |
| 5. | Delhi | |
| 6. | Lakshadweep | Lava |
| 7. | Pondicherry | Garadi |