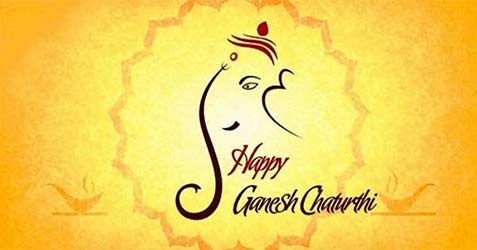 There are many mythological anecdotes of Ganesha. Ganesha's elephant head makes him easy to identify. He is worshiped as the lord of beginnings and as the lord of obstacles, the patron of arts and sciences, and the god of intellect and wisdom.
Today before any venture is undertaken, it is Ganesha who is invoked and whose blessings are sought.
While Ganesha is popularly considered to be the son of Shiva and Parvati, the Puranic myths relate several different versions of his birth. These include versions in which he is created by Shiva, by Parvati, by Shiva and Parvati, or in a mysterious manner that is later discovered by Shiva and Parvati.
Some of the famous stories related to Ganesha are:-
Fruit of Knowledge
Elephant Head

Decapitation by Shiva
Shiva and Gajasura
Gaze of Shani
Other Versions

Broken Tusk

Ganesha and Scribe
Ganesha and Parashurama
Ganesha and the Moon

Head of the Celestial Armies
Appetite
Fruit of Knowledge
Once there was a competition between Ganesha and his brother as to see who could circumambulate the three worlds faster and hence win the fruit of knowledge. Skanda went off on a journey to cover the three worlds while Ganesha simply circumambulated his parents. When asked why he did so, he answered that his parents Shiva and Parvati constituted the three worlds and was thus given the fruit of knowledge.
Elephant Head
Decapitation by Shiva -
The most well-known story is probably the one taken from the Shiva Purana. One day Parvati, Shiva's beloved wife, instructed Shiva's attendant Nandi not to let anyone in while she was taking a bath. A little later Shiva arrived wishing to enter. Nandi was in a dilemma as how to stop his master. Shiva entered Parvati was not ready to receive him. She was upset and wondered why Nandi had not obeyed her command. She complained to Shiva but Shiva did not take the matter too seriously. He was amused to hear that Parvati had asked Nandi to stop him from entering his own home. Parvati was annoyed. She shared her feelings with her friends. They teased Parvati by saying that she had no attendant of her own. They all considered Shiva their true master.
One of Parvati's friends came up with the idea to create a person who would owe his first allegiance to Parvati and not to Shiva. Once, while his mother Parvati wanted to take a bath, there were no attendants around to guard her and stop anyone from accidentally entering the house.
So Parvati gathered the turmeric / saffron paste (used at the time of bathing), from her own body and created a boy, and infused life into it, and thus Ganesha was born. The boy was handsome and strong.
"You are my son, my very own son, I do not have anyone else to call my very own" said Parvati. Then Parvati gave the boy a staff and asked him to guard the door, "Do not to allow anyone to enter without my permission."
A little later Shiva arrived and wondered who the boy could be and why was he there. His attendants did not know either. As Shiva approached the door, the boy stopped him. Shiva tried to explain to the boy that he was Parvati's husband and he had the right to enter without asking anyone. The boy said without hesitation, "Halt, no one enters these halls without my mother's permission." When Shiva ignored him, the boy hit him with his staff. Shiva was furious. He tried to fight the young boy to realize that he was no ordinary boy. Shiva asked his attendants to capture the boy but single-handedly, the boy defeated all of them.
News reached Parvati through her friends and she thought, "Shiva is after all my husband." But she instantly argued, "But why should he try to force himself in without giving respect to my privacy?" So she firmly conveyed her feelings to her friend, and she took the message to the boy, "Parvati has given definite instruction as not to allow anyone to enter the palace. The boy declared, "I am the son of Parvati. I will give my life to carry out my mother's orders. No one can enter the palace without my mother's permission."
The messenger returned to Shiva and humbly informed him what the boy had said. Shiva's pride was hurt. Shiva was so angry that he sent his entire army to capture the boy. Parvati called for her other powers, Kali and Durga. She asked them to stand beside her son. Shiva's army lost the battle and the attendants ran for their lives. Shiva then called Vishnu to join him in defeating the small boy. This was not a fair fight. While the boy was engaged in fighting with Vishnu, Shiva threw his Trident and beheaded the boy. After the head rolled off, Shiva realized his mistake.
When Parvati heard of the unfair fight she decided to destroy the world. Brahma humbly approached Parvati, seeking for mercy to save the world. Parvati agreed on two conditions, "My son must regain his life and he shall be worshipped before any of the other gods." By that time Shiva had calmed down and apologized for his rash behavior. He agreed to bring the boy back to life.
Shiva approached Brahma who suggested that he replace Ganesha's head with the first living being that came his way which lay with its head facing north. Shiva then sent his celestial armies (Gana) to find and take the head of whatever creature they happened to find asleep with its head facing north. They found a dying elephant which slept in this manner, and after its death took its head. The head was then fitted to the body of the boy and Brahma sprinkled water on it. The boy came to life with an elephant's head on his shoulder. From then on, he was called Ganapathi, head of the celestial armies, and was to be worshipped by everyone before beginning any activity Parvati embraced her son with joy. She then turned to Brahma to fulfill her second condition. Indra and the other gods brought Shiva to Parvati. Shiva apologized for his arrogance and declared "Hence on, this valiant boy will be my son. He will be respected as any other God and will be worshipped before any other God. He will be called Ganesha, the chief of my Ganas or attendants, and also Vigneshwar, the remover of all obstacles."
Shiva and Gajasura -
Another story regarding the origins of Ganesha and his elephant head narrates that, once, there existed an Asura (demon) with all the characteristics of an elephant, called Gajasura, who was undergoing a penitence (or tapas). Shiva, satisfied by this austerity, decided to grant him, as a reward, whatever gift he desired. The demon wished that he could emanate fire continually from his own body so that no one could ever dare to approach him. The Lord granted him his request. Gajasura continued his penitence and Shiva, who appeared in front of him from time to time, asked him once again what he desired. The demon responded: "I desire that you inhabit my stomach."
Shiva granted even this request and he took up residence in the demon's stomach. In fact, Shiva is also known as Bhola Shankara because he is a deity easily propitiated; when he is satisfied with a devotee he grants him whatever he desires, and this, from time to time, generates particularly intricate situations. It was for this reason that Parvati, his wife, sought him everywhere without results. As a last recourse, she went to her brother Vishnu, asking him to find her husband. He, who knows everything, reassured her: "Don't worry, dear sister, your husband is Bhola Shankara and promptly grants to his devotees whatever they ask of him, without regard for the consequences; for this reason, I think he has gotten himself into some trouble. I will find out what has happened."
Then Vishnu, the omniscient director of the cosmic game, staged a small comedy. He transformed Nandi (the bull of Shiva) into a dancing bull and conducted him in front of Gajasura, assuming, at the same time, the appearance of a flutist. The enchanting performance of the bull sent the demon into ecstasies, and he asked the flutist to tell him what he desired. The musical Vishnua responded: "Can you give me that which I ask?" Gajasura replied: "Who do you take me for? I can immediately give you whatever you ask." The flutist then said: "If that's so, liberate Shiva from your stomach." Gajasura understood then that this must have been no other than Vishnu himself, the only one who could have known that secret and he threw himself at his feet. Having liberated Shiva, he asked him for one last gift: "I have been blessed by you with many gifts; my last request is that everyone remembers me adoring my head when I am dead." Shiva then brought his own son there and substituted his head with that of Gajasura. From then on, in India, the tradition is that any action, in order to prosper, must begin with the adoration of Ganesha. This is the result of the gift of Shiva to Gajasura.
Gaze of Shani -
A lesser known story from the Brahma Vaivarta Purana narrates a different version of Ganesha's birth. On the insistence of Shiva, Parvati fasted for a year (Punyaka Vrata) to propitiate Vishnu so that he would grant her a son. Lord Vishnu, after the completion of the sacrifice, announced that he would incarnate himself as her son in every kalpa (eon). Accordingly, Krishna was born to Parvati as a charming infant. This event was celebrated with great enthusiasm and all the gods were invited to take a look at the baby. However Shani (Saturn), the son of Surya, hesitated to look at the baby since Shani was cursed with the gaze of destruction. However Parvati insisted that he look at the baby, which Shani did, and immediately the infant's head fell off and flew to Goloka. Seeing Shiva and Parvati grief-stricken, Vishnu mounted on Garuda, his divine eagle, and rushed to the banks of the Pushpa-Bhadra river, from where he brought back the head of a young elephant. The head of the elephant was joined with the headless body of Parvati's son, thus reviving him. The infant was named Ganesha and all the Gods blessed Ganesha and wished Him power and prosperity.
Other versions -
Another tale of Ganesha's birth relates to an incident in which Shiva slew Aditya, the son of a sage. Shiva restored life to the dead boy, but this could not pacify the outraged sage Kashyapa, who was one of the seven great Rishis. Kashyap cursed Shiva and declared that Shiva's son would lose his head. When this happened, the head of Indra's elephant was used to replace it.
Still another tale states that on one occasion, Parvati's used bath-water was thrown into the Ganges, and this water was drunk by the elephant-headed Goddess Malini, who gave birth to a baby with four arms and five elephant heads. The river goddess Ganga claimed him as her son, but Shiva declared him to be Parvati's son, reduced his five heads to one and enthroned him as the controller of obstacles (Vignesha).
Broken Tusk
There are various anecdotes which explain how Ganesha broke off one of his tusks. Devotees sometimes say that his single tusk indicates his ability to overcome all forms of dualism. In India, an elephant with one tusk is sometimes called a "Ganesha".
Ganesha the scribe -
In the first part of the epic poem Mahabharata, it is written that the sage Vyasa asked Ganesha to transcribe the poem as he dictated it to him. Ganesha agreed, but only on the condition that Vyasa recite the poem uninterrupted, without pausing. The sage, in his turn, posed the condition that Ganesha would not only have to write, but would have to understand everything that he heard before writing it down. In this way, Vyasa might recuperate a bit from his continuous talking by simply reciting a difficult verse which Ganesha could not understand. The dictation began, but in the rush of writing Ganesha's feather pen broke. He broke off a tusk and used it as a pen so that the transcription could proceed without interruption, permitting him to keep his word.
Ganesha and Parashurama -
One day, Shiva was taking a nap when Ganesha was guarding him, Parashurama, an avatar of Vishnu, went to pay a visit to Shiva, but along the way he was blocked by Ganesha. Parashuram was unwilling to take orders from anyone. Parashurama hurled himself at Ganesha with his axe and Ganesha (knowing that this axe was given to him by Shiva) allowed himself out of respect to be struck and lost his tusk as a result. Thus Ganesha lost one of his tusks and began to be known as "Eka-danta", or "One Toothed."
Ganesha and the Moon -
It is said that one day Ganesha, after having received from many of his devotees an enormous amount of sweets (Modak), in order to better digest this incredible mass of food, decided to go for a ride. He got on the mouse which he used as his vehicle and took off. It was a magnificent night and the moon was resplendent. Suddenly a snake appeared out of nowhere and nearly frightened the mouse to death, causing it to jump and Ganesha was thrown off his mount. Ganesha's huge stomach smashed against the ground so forcefully that it burst open and all of the sweets that he had eaten were scattered around him. Nonetheless, he was too intelligent to get angry about this accident and, without wasting any time in useless lamentations, he tried to remedy the situation as best he could. He took the serpent which had caused the accident and used it as a belt to keep his stomach closed and bandage the injury. Satisfied by this solution, he remounted his mouse and continued his excursion.
Chandradev (Moon God) saw the whole scene and laughed. Ganesha, being the short-tempered one, cursed Chandradev for his arrogance and breaking off one of his tusks, hurled it against the Moon, slashing its luminous face in two. He then cursed it, decreeing that anyone who happens to see the moon will incur bad luck. Hearing this, Chandradev realised his folly and asked for forgiveness from Ganesha. Ganesha relented and since a curse cannot be revoked, only softened it. Ganesha softened his curse such that the moon would wax and wane in intensity every fifteen days and anyone who looks at the moon during Ganesha Chaturthi would incur bad-luck. This explains why, in certain moments, the light of the Moon goes off and then begins gradually to reappear; but its face appears whole only for a brief period of time, since it is once again "broken" in half to the point of disappearing.
Head of the Celestial Armies
There once took place a great competition between the Devas to decide who among them should be the head of the Gana (the troops of semi-gods at the service of Shiva). The competitors were required to circle the world as fast as possible and return to the Feet of Shiva. The gods took off, each on his or her own vehicle, and even Ganesha participated with enthusiasm in the race; but he was extremely heavy and was riding on a mouse! Naturally, his pace was remarkably slow and this was a great disadvantage. He had not yet made much headway when there appeared before him the sage Narada (son of Brahma), who asked him where he was going.
Ganesha was very annoyed and went into a rage because it was considered unlucky to encounter a solitary Brahmin just at the beginning of a voyage. Notwithstanding the fact that Narada was the greatest of Brahmins, son of Brahma himself, this was still a bad omen. Moreover, it wasn't considered a good sign to be asked where one was heading when one was already on the way to some destination; therefore, Ganesha felt doubly unfortunate. Nonetheless, the great Brahmin succeeded in calming his fury. Ganesha explained to him the motives for his sadness and his terrible desire to win. Narada consoled and exhorted him not to despair; he said that the whole world was embodied within Shiva, so all Ganesha had to do was to circle his father and he would defeat those who had more speed but less understanding.
Ganesha returned to his father, who asked him how he was able to finish the race so quickly. Ganesha told him of his encounter with Narada and of the Brahmin's counsel. Shiva, satisfied with this response, pronounced his son the winner and, from that moment on, he was acclaimed with the name of Ganapati (conductor of the celestial armies) and Vinayaka (lord of all beings).
Appetite
One anecdote, taken from the Skanda Purana, narrates that the treasurer of Swarga (paradise) and god of wealth, Kubera, went one day to Mount Kailash in order to receive the darshan (vision) of Shiva. Since he was extremely vain, he invited Shiva to a feast in his fabulous city, Alakapuri, so that he could show off to him all of his wealth. Shiva smiled and said to him: "I cannot come, but you can invite my son Ganesha. But I warn you that he is a voracious eater." Unperturbed, Kubera felt confident that he could satisfy even the most insatiable appetite, like that of Ganesha, with his opulence.
Kubera took the little son of Shiva with him into his great city. There, he offered him a ceremonial bath and dressed him in sumptuous clothing. After these initial rites, the great banquet began. While the servants of Kubera were working themselves to the bone in order to bring the portions, the little Ganesha just continued to eat and eat and eat. His appetite did not decrease even after he had devoured the servings which were destined for the other guests. There was not even time to substitute one plate with another because Ganesha had already devoured everything, and with gestures of impatience, continued waiting for more food. Having devoured everything which had been prepared, Ganesha began eating the decorations, the tableware, the furniture, the chandelier. Terrified, Kubera prostrated himself in front of the little omnivorous one and supplicated him to spare him, at least, the rest of the palace.
"I am hungry. If you don't give me something else to eat, I will eat you as well!" he said to Kubera. Desperate, Kubera rushed to mount Kailash to ask Shiva to remedy the situation. The Lord then gave him a handful of roasted rice, saying that something as simple as a handful of roasted rice would satiate Ganesha, if it were offered with humility and love. Ganesha had swallowed up almost the entire city when Kubera finally arrived and humbly gave him the rice. With that, Ganesha was finally satisfied and calmed.