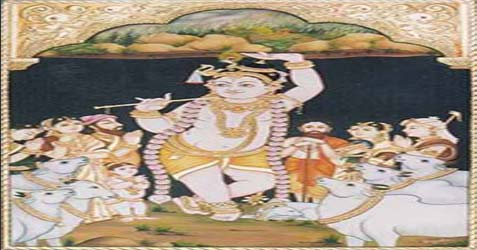 There are several popular legendary stories to explain the foundation of Govardhan Puja celebration.
Lord Krishna lifts the Govardhana Hill
'Govardhan' is a small hillock in Braj, near Mathura and on this day of Diwali people of Punjab, Haryana, Uttar Pradesh and Bihar build cow dung, hillocks, decorate them with flowers and then worship them. This festival is in commemoration of the lifting of Mount Govardhan by Krishna.
As per Vishnu-Puran the people of Gokul used to worship and offer prayer to Lord Indra for the rains because they believed that it was he who sent rains for their welfare but Lord Krishna told them that it was Mount Govardhan (Govardhan Parvat) and not Lord Indra who caused rains therefore they should worship the former and not the latter. People did the same and it made Lord Indra so furious that the people of Gokul had to face very heavy rains as a result of his anger. People were afraid that the downpour was a result of their neglect of Indra. But Krishna assured them that no harm would befall them. Then Lord Krishna came forward to ensure their security and after performing worship and offering prayers to Mount Govardhan lifted it as an umbrella on the little finger of his right hand so that everyone (men and beasts) could take shelter under it. After this event Lord Krishna was also known as Giridhari or Govardhandhari. After this, Indra accepted the supremacy of Krishna. Govardhan Puja is also called Anna-Koot.
Anna-Koot -
This day is also observed as 'Anna-Koot', which means mountain of food. Pious people keep awake the whole night and cook 56 or 108 different types of food for the Bhog (the offering of food) to Krishna. In temples especially in Mathura and Nathadwara, the deities are given milkbath, dressed in shining attires with ornaments of dazzling diamonds, pearls, rubies and other precious stones. After the prayers and traditional worship innumerable varieties of delicious sweets are ceremoniously raised in the form of a mountain before the deities as "Bhog" and then the devotees approach the Mountain of Food and take Prasad from it.