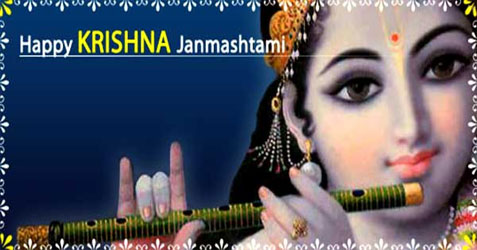 Krishna Janmashtami, also known as Krishnashtami, Saatam Aatham, Gokulashtami, Ashtami Rohini, Srikrishna Jayanti, Sree Jayanti, the birthday of Lord Krishna is celebrated with great devotion and enthusiasm in India. Janmashtami is the joyful celebration of Lord Krishna's birth. Major celebrations of Krishna Janmashtamitakes place at midnight as Krishna is said to have made his divine appearance in that hour. Fasting, bhajans, pujas and many other rituals mark Janmashtami celebrations in India.
The festival is celebrated on the eighth day (Ashtami) day of the Krishna Paksha (dark fortnight) of the month of Shraavana (August–September) in the Hindu calendar.
Sri Krishna is considered as the one of the most powerful human incarnations of the Lord Vishnu, believed to have been born about 5000 years ago in Mathura in 'Dwapar Yuga'. The sole objective of Sri Krishna's birth was to free the Earth from the evilness of demons. He played an important role in Mahabharata and propagated the theory of bhakti and good karma which are narrated deeply in the Bhagwat Geeta.
Janmashtami (Krishnashtami) 2022 dates
| | | |
| --- | --- | --- |
| # | Festival Name | Date |
| 1 | Janmashtami (Krishnashtami) | 19 August 2022 (Friday) |