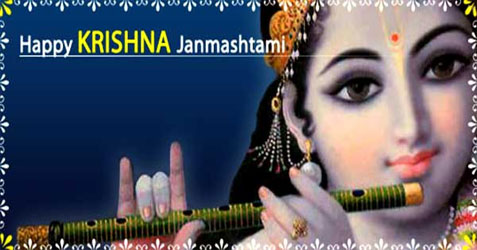 Fasting
The most common ritual observed all over during Janmashtami is fasting by devotees on the day of the festival, usually a waterless fast. No grains should be consumed during Janmashtami fasting until the fast is broken on next day after Sunrise. People prefer to have only milk and milk products as they were the favourite of Lord Krishna.
After the entire pooja is over, devotees break their fast by having panchamrit. The time of breaking the fast may vary, this is so, because the time of performing pooja also differs from place to place. While some devotees choose to perform pooja at midnight and breakfast, others perform pooja in the evening and have food.
Chanting
Devotees spend the day immersed in Shri Krishna's glory by reading, reciting and singing his divine leela, recite hymns from the Gita, sing devotional songs, and chant the mantra Om namo Bhagavate Vasudevaya. Chanting of 108 names of Lord Krishna is another ritual that takes place in various temples. Chanting of names is accompanied by showering of flowers on the idol of Lord Krishna.
Preparation of Sweets
According to legend, Lord Krishna was very fond of milk and milk products like butter and buttermilk. He was also fond of Sweets like Kheer, Pedhas etc. Therefore devotees all over make sweets during the festival to please the Lord.
He is devotionally offered many sumptuous food dishes especially 'Makkhan' (butter) and 'Mishri' (sugar cubes). 'Makhan' (butter) is especially included since Shri Krishna loved this in childhood. The traditional prasad is 'Panchajiri' - made of five ingredients: powdered ginger, 'suva', coriander, sugar and ghee. Other ingredients include poppy seeds (khaskhas) and dessicated coconut shavings.
Midnight Puja
At midnight, Lord's birth hour, the statue of infant Krishna is bathed and placed in a cradle, in the form of 'Lalji' (child form), which is rocked, amidst the blowing of conch shells and the ringing of bells, arti is performed.
Related Links
Janmashtami Rituals
Janmashtami Celebrations
Janmashtami Puja Items
Janmashtami Puja Process
Legends of Janmashtami