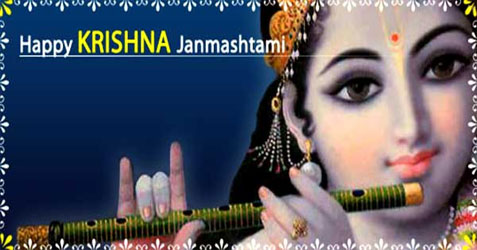 The general pooja process begins at midnight, the Lord's birth hour. Keeping the image or idol of Bal Gopal (Lord Krishna) on a metal plate, devotees give a bath or abhishek to Bal Gopal's idol with gangajal, ghee, milk, honey and curd. The idol is then adorned with new clothes (preferably in yellow colour), stone or other precious jewellery. He is also installed in the form of 'Lalji' (child form) in a swing.
Next, the idol of lord is offered bhog, the contents of bhog may vary. Fruits, kheer, pedha, milk, and milk products are made. There are devotees who offer chappan bhog(56 dishes) to Bal Gopal.
Thereafter, the cradle containing the divine infant's idol is rocked, conch is blown and light a diya. Devotees sing Krishna arti, Janmashtami arti is performed every year to mark the birth anniversary of Lord Krishna. Krishna arti is performed in every house as well as temple during the festival. Some people read out 108 names of lord Krishna. They get totally immersed in the name and praise of Gopal.
There are certain special process required for Krishnashtami Puja
Lord Krishna's idol with cradle and conch
New clothes (preferably in yellow colour), flute and ornaments for Lord Krishna
Puja thali (A metal plate containing the ingredients necessary for puja)

A bell (Ghanta)
Diya
Rice
Elaichi (Cardamon)
Supari
Paan leaves
Roli
Gangajal
Sindoor
Incense sticks
Flowers
Ghee

For Panchamrit

Milk
Curd
Gangajal
Honey
Ghee
Related Links
Janmashtami Rituals
Janmashtami Celebrations
Janmashtami Puja Items
Janmashtami Puja Process
Legends of Janmashtami