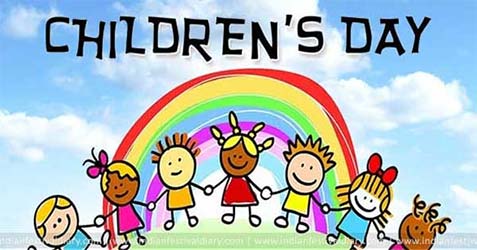 Children's Day is an event celebrated on various days in many places around the world. International Children's Day is celebrated on June 1 and Universal Children's Day is celebrated on November 20. These holidays are simply set to honor children and minors.
In India, Children's Day is celebrated on November 14 every year. This date marks the birth anniversary of independent India's first Prime Minister, Pandit Jawaharlal Nehru. Children's day is celebrated on this day in recognition of his lifelong fondness and work for children. He always regarded all children with affection and love, and was well known for being likeable to children. Children also loved him very much and called him "Chacha Nehru" ("Chacha" meaning uncle, younger brother of father).
What can we do ?
Instead of celebrating it with pomposity in schools and clubs and hotels, why not bring a difference into the lives of children who are unprivileged. While celebrating being a child, the fortunate ones should be reminded about their good fortune to have all that they are endowed with, while there are others who can barely feed or clothe themselves.
Thus, while this day was globally instituted to provide children with basic Rights, maybe one can make a difference to a child's life by doing something special. Parties and celebrations happen all the time, but how about taking the fortunate children to homes that shelter street children and have them befriend those kids, donating clothes, toys, stationery, books, etc.
Related links:
Children's Day
What to do on Children's Day?
History of Children's Day
Children's Day Celebration
Children's Day 2022 dates
| | | |
| --- | --- | --- |
| # | Festival Name | Date |
| 1 | Children's Day | 14 November 2022 (Monday) |