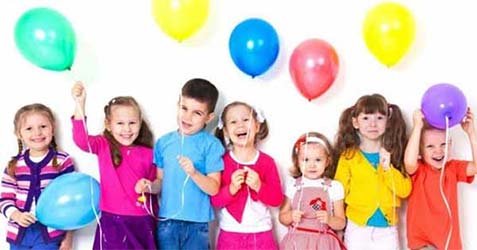 In India, Children's Day is celebrated on November 14 every year. This date marks the birth anniversary of independent India's first Prime Minister, Pandit Jawaharlal Nehru. Children's day is celebrated on this day in recognition of his lifelong fondness and work for children. He always regarded all children with affection and love, and was well known for being likeable to children. Children also loved him very much and called him "Chacha Nehru" ("Chacha" meaning uncle, younger brother of father).
Children's Day is celebrated with great pomp and show across India. The day is marked with a lot of activities for children. For the children's it is a day of much fun and fanfare. But the fact remains that only a section of the country's children actually have an opportunity to celebrate their existence. Most schools have cultural programmes for the day, with the students managing it all. All over the country, various cultural, social, and even corporate, institutions conduct competitions for children. Children's Day is a day for children to engage in fun and frolic.
In this day various departments of government announces various schemes and organizes various competitions and events for the children. Schools celebrate this day by organising cultural programmes. Teachers of the school perform songs and dances for their students. Various competitions like quizzes, fancy dress competitions, and elocutions are organised on this day. Children are also treated to a movie and lunch. Television networks have in the recent years started to air special programmes all day long for kids on November 14, making this day a special treat.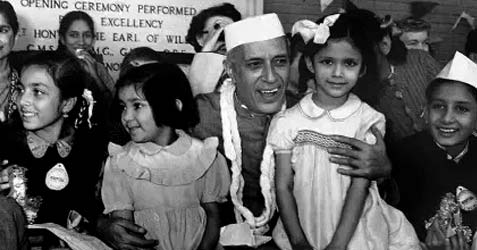 Jawaharlal Nehru popularly and fondly remembered as Chacha Nehru, always believed that children decide the future of any country or civilization. If the children of the country are provided with proper foundation and development opportunities, they can uplift the nation towards greater prosperity. On the other hand, failure to feed and educate the children prepares to burry all expectations of any nation.

Apart from being known for his skills as a statesman, Nehru was also immensely fond of children. The more popular and famous of Nehru's pictures show him with children. In all the photographs Nehru's joy at being with children is apparent. When he is not sharing pleasantries with them, the expression of intense concentration as he listens to them reveals his commitment and attitude to children. Children to Nehru were little adults in the making. Nehru, to children, is never the Indian political leader and prime minister. He is always Chacha Nehru - Nehru Uncle.
Children's Day is not just a day to let the future generation have its say. It is a day to remember a leader who, in his quiet but determined way, Childrens Daylaid the foundation to convert a nascent nation into a world power. The occasion of children's Day is not only an opportunity to celebrate and enjoy, but it reminds us of the mission and message of Pandit Jawaharlal Nehru. He always wanted children all over the world to grow, prosper, get education and prosper in life. Therefore, amidst all this pomp and glory, we should not lose sight of Chacha Nehru's real message. That is providing our children with a safe and loving environment to grow as well as giving them ample and equal opportunities through which they can take great strides and contribute to the progress of the nation. This Day serves as a reminder to each and every one of us, to renew our commitment to the welfare of children.
Related links:
Children's Day
What to do on Children's Day?
History of Children's Day
Children's Day Celebration
Children's Day 2022 dates
| | | |
| --- | --- | --- |
| # | Festival Name | Date |
| 1 | Children's Day | 14 November 2022 (Monday) |