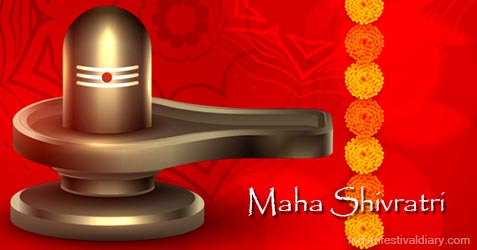 Shivaratri falls on the moonless 14th night of the new moon in the Hindu month of Phalgun, which corresponds to the month of February - March in English Calendar.
Mahashivaratri is celebrated with gusto by the Hindus all over India. It is an important day for the followers of Lord Shiva, as it honors their favorite deity. The celebrations are marked by fasting and the observance of a number of rituals. Devotees strongly believe that sincere worship of Lord Shiva on the auspicious day of Shivaratri, absolves a person of sins and liberates him from the cycle of birth and death.
According to the Hindu mythology, Lord Shiva declared that the rituals performed by his devotees on the 14th day of the dark fortnight in the month of Phalgun please him the most. Therefore, year by year, the day is observed as Mahashivratri, wherein devotees observe fast, sing songs and bhajans and offer prayers to the Almighty to seek his blessings. Pujas conducted in Lord Shiva temples during the day have significance too. This is because the rituals are conducted strictly in accordance with the method that is prescribed in Shiva Purana, a Hindu epic. According to the Purana, poojas are conducted once in every three hours, on Maha Shivaratri.
Maha Shivratri 2022 dates
| | | |
| --- | --- | --- |
| # | Festival Name | Date |
| 1 | Maha Shivratri | 01 March 2022 (Tuesday) |