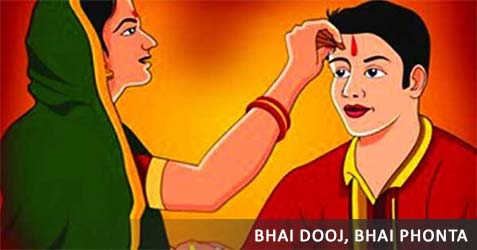 Festival of Bhai Dooj is quite popular in India and is celebrated with lot of fervour and gaiety. Brothers and sisters look forward to the occasion with immense enthusiasm.
To add charm to the occasion Bhai Dooj Gifts are exchanged between brothers and sisters as a token of love and appreciation.
Bhai Dooj is the time for family reunion as all brothers and sisters in the family get together. Close relatives and friends are also invited to celebrate Bhai Dooj in several families.
Delectable Basundi Poori and Shrikhand Poori is relished along with several other festival special dishes.
In West Bengal
Bhai Phota is celebrated with a lot of grandeur in Bengal. Sisters religiously fasts until she applies a 'phota' or mark with sandal wood paste on her brother's forehead, offers him sweets and gifts and prays for his long and healthy life. An 'arati' is also performed.
In Punjab
This day is known as 'Tikka' in Punjab. Sisters make a paste with saffron and rice and place an auspicious mark on their brother's foreheads as a symbolic gesture to ward off all harm.
In Uttar Pradesh
In Uttar Pradesh, the brother is gifted with an 'aabf'- a length of flax, knotted into a circular shape and dotted with sugar batashas. After performing all the rituals that include the sister applying a tilak of roli and rice on her brother's forehead and praying him with an arati to shed off all the evil effects, the story of Bhai Dooj is narrated.
In Bihar
The sisters of Bihar start this day by showering choicest of curses on their brothers. After doing so, they prick their own tongues as punishment, with a thorny, wild fruit and ask for their brothers' forgiveness for the curses, and also for past mistakes. There is also a unique custom of brother eating grains of bajri with water, from their sisters' hands.
Related Links
Bhai Dooj
Bhai Dooj Preparations
Bhai Dooj Traditions
Bhai Dooj Celebrations