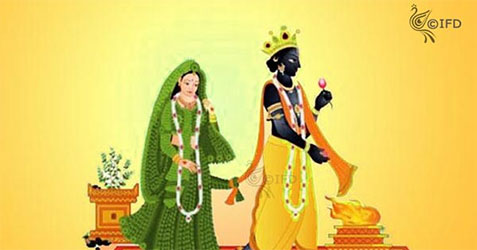 Tulsi Vivah is the ceremonial marriage of the Tulsi plant to the Hindu God Vishnu or his incarnated form Krishna. As per Hindu calendar, Tulsi Vivah duration begins from eleventh day of bright fortnight of Hindu month Kartik to the full moon of the same month.
Story of Tulsi Vivah
According to Hindu mythology Tulsi was actually a woman named Vrinda. She was married to demon king Jalandhar. Vrinda was a great devotee of Lord Vishnu and she prayed to Lord Vishnu for her husband to be invincible. She was also very loyal to her husband. Her loyality and prayer made Jalandhar too powerful to be defeated so no God was able to defeat him.
All Gods prayed to Vishnu to find a solution. So Vishnu disguised himself as Jalandhar and violated Vrinda. As her chastity destroyed, Jalandhar lost his power and killed by Lord Shiva.

When Vrinda came to know the truth she cursed Lord Vishnu to become a black stone (Saaligram Shila) and she burnt herself on her husband's funeral. Lord Vishnu transformed her soul into Tulsi Plant.

As per another story Vrinda cursed Lord Vishnu to be separated from his wife. Her cursed actually fulfilled when Vishnu turned into a black stone; the Saaligram Shila and in his incarnated form of Rama, he separated from his wife Sita. As a blessing Lord Vishnu married her (Tulsi) in next birth as Saaligram Shila.
Rituals of Tulsi Vivah
According to Padma Puran Tulsi Vivah should be conducted on Ekadashi Tithi of Kartik month. The whole ritual is very much resembled to the real Hindu marriage.

Devotee keeps fast for the whole day. A Vivah Mandap (marriage booth) is created with the cane where a Saaligram Shila or an idol or picture of Lord Vishnu or Lord Krishna kept beside Tulsi plant. Both are decorated as bride and groom with new red or yellow coloured cloth and jwellery.

If devotee whish he or she can himself or herself perform the Vivah Ritual by uttering Mantras or the devotee can invite a Pandit to perform the whole thing.
On the next day the devotee should perform the puja of Lord Vishnu and Tulsi and then take food to break the fast.
Other Names:
Allhalloween
All Hallows Eve
All Saints Eve
Hallows Day
Tulsi Vivah 2022 dates
| | | |
| --- | --- | --- |
| # | Festival Name | Date |
| 1 | Tulsi Vivah | 05 November 2022 (Saturday) |