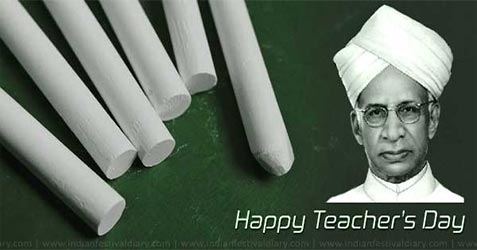 Teachers mold us and in the process and shape our future. What we learn from our teachers remains with us, throughout our life. They are like beacons of light, guiding us in the formative years of our life. Teachers have an influencing role in the life of every student. However, very often, we fail to show our appreciation and gratitude for their altruistic devotion.
Teachers do need encouragement and support from the community to feel that their efforts are being recognized. To serve the purpose, Teacher's Day is celebrated throughout the world, year by year. By celebrating Teacher's Day, we thank our teachers for providing us their invaluable guidance.
The festival is celebrated on different dates in different countries. Since Teacher's Day is observed on different dates in different countries of the world, the celebrations also vary. In India, Teachers Day is celebrated on 5th of September, every year. In many countries, cultural programs are held, which may include singing competitions, dance and play performances. The students offer flowers, greeting cards and gifts as the token of affection, to the teachers. The latest trend is to organize Teacher's Day party.
Teacher's Day 2022 dates
| | | |
| --- | --- | --- |
| # | Festival Name | Date |
| 1 | Teacher's Day | 05 September 2022 (Monday) |