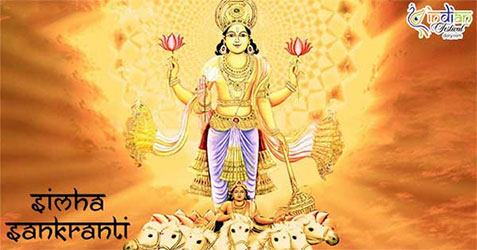 Shankranti marks the solar transition from one zodiac sign to another. Simha Sankranti falls on the day when Sun moves Karka Rashi to Simha Rashi. Simha Sankranti is one of the twelve sankrantis that occurs every year.
Simha Sankranti marks the beginning of Malayalam Calendar in Kerala, Avni month as per Tamil calendar and Bhadra month of Bengali calendar. In southern India this Sankranti is known as Simha Sankraman. Southern India celebrates the day more significantly than northern India.
Simha Sankranti is considered extremely auspicious and unique as it removes darkness from life. On this day people perform "Punya Snanam" or pious bath at various Holy River and worship Lord Vishnu, Sun God, Narshimha Swami. On this Sankranti people offer traditional offering to the God for dignified life.

In Kumaun region of Himachal Pradesh Simha Sankranti is celebrated with great zeal. In Vishnumurthy temple in Kulai, near Mangalore, Lord Vishnu is worshiped with great devotion. "Nariyal (coconut) Abhisheka" is performed as it is considered a part of holy bath of the deity; only fresh coconut water is used for this purpose.
Simha Sankranti 2021 dates
| | | |
| --- | --- | --- |
| # | Festival Name | Date |
| 1 | Simha Sankranti | 22 July 2021 (Thursday) |