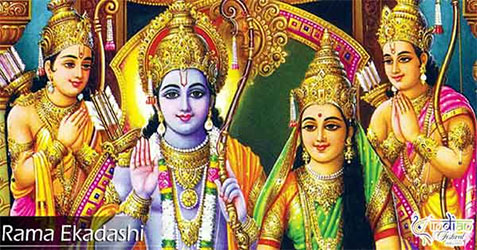 Rama Ekadashi 2023
09 November 2023 (Thursday)
Rama Ekadasi is observed during the waning phase of moon in Hindu month of Kartik. Ekadasi occurs twice in every Hindu lunar month. Ekadasi is an important day dedicated to Lord Vishnu. All the rules, which followed in all Ekadasi, are also observed during the Rama Ekadasi; devotees fast on the day and some devotees avoid taking grains and rice on the day. It is believed that keeping fast on this Ekadasi all sins of a person are removed.
Lord Krishna narrated the importance of this Ekadasi to Maharaj Yudhisthira. Once there was a weak prince named Shobhana who observed Rama Ekadasi fast after his marriage but as he was so weak he couldn't survive the fast and died. But as the reward of observing the Ekadasi fast he got the opportunity to rule the heaven. But it was his temporary kingdom. He wanted to make his kingdom permanent. By bringing his wife Chandrabhaga to his kingdom he made it permanent because his wife observed this Ekadasi from childhood.