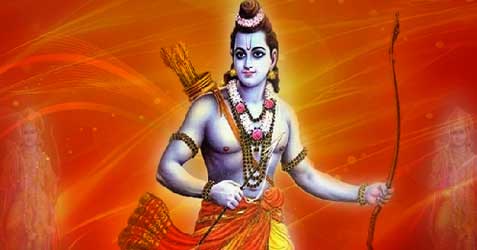 Rama Navami as the name suggest is a festival of Rama. Each year this day is celebrated as birthday of Lord Rama. Rama Navami is celebrated during Chaitra Sukla Paksha Navami or Ninth day of the waxing phase of the moon in the Hindu month of Chaitra as per Hindu calendar.
Ayodhya is birthplace of Lord Rama and Rama Navami celebrations in Ayodhya are remarkable. Devotees come to Ayodhya from far-flung places. After taking holy dip into river Sarayu devotees visit Rama temple to participate in birthday celebrations.
Lord Ram is known as the seventh incarnation of the Dashavatara of Vishnu and was born to the Dasharatha and Queen Kausalya of Ayodhya.
Timing
Lord Rama was born during Madhyana period which is middle of Hindu day. Madhyana is the most auspicious time to perform Rama Navami Puja rituals. The mid-point of Madhyana marks the moment when Shri Rama was born and temples symbolize this moment as birth moment of Lord Rama. The chanting of Shri Rama and celebration reaches its peak during this time.
Due to widespread use of western clock and Gregorian calendar people assume 12 p.m. as Madhyana moment.
Ritual
Fasting - It is also considered auspicious to undertake a fast on this day. Some observe a strict fast on this day. Eight Prahar fasting is suggested during Rama Navami. Which means devotes should observe the fast from sunrise to sunrise. Rama Navami Vrat can be observed in three different ways -
Casual - which can be observed without any cause.
Continual - which can be observed throughout life without any desire.
Desirable - which can be observed to fulfill any desire.
Many of the devotees go for a fast on satvik food i.e. holy food without salt and other adulterated materials. However many of them also observe a waterless fast (nirjal vrat). Those who prefer to have satvik food can have potatoes made in any form without haldi (turmeric), garlic, ginger or onion. Sendha namak (rock salt) is allowed for usage in fast. While on a fast, the person can also eat curd, milk, tea, coffee, fruits and root vegetables. The Ram Navami fast is opened on midnight if one has observed a waterless fast (nirjal vrat).
Pooja - Celebrations begin with a prayer to the Sun early in the morning. Lord Ram's dynasty considered to have descended from the Sun. Therefore the celebrations on Ram Navami festival begin early morning by praying to the Sun.

At midday, when Lord Rama is supposed to have been born, a special prayer is performed. People sing devotional songs in praise of Rama and idols, images of him in a cradle to celebrate his birth. Many temples perform elaborate prayers throughout the day.

The Pooja begins with the establishment of the idols or pictures of Lord Rama, Laxmana, Sita and Hanuman. All of these Gods and Goddess are then welcomed by lighting diyas and incense sticks. Then they are worshipped with the auspicious pooja materials like roli, aipun, rice, water, flowers, bell and conch and are also offered scrumptious sweets. At last, an aarti is performed and all the devotees in the Pooja are sprinkled with holy water as a sign of blessing and auspiciousness from God. The youngest female member of the family applies teeka to all the male members of the family. At the last the prasad is distributed to all the devotees.
Offering to Lord Rama - In some parts of India the main offering of Rama Navami is the Paanakam (prepared from Jaggery and Pepper). Kosambari another offering made from soaked Moong Dal.
Bhajan - A very important practice during this festival includes reading of the Ramayana and Ramscharit Manas by a pundit in the temple and this is a crowd puller as people come to listen to the fascinating story. People sing bhajans, chant the Ramnam (name of Ram), and seek the blessings of the almighty.
Rath Yatra - Rathyatras or chariot processions of Ram, his wife Seeta, brother Lakshman and devotee Hanuman are held from many temples.

Ayodhya is the place where Lord Ram was born and during the festival resplendently decorated rath yatras or chariot processions are carried through the town. The main attraction of these processions are lavishly decorated chariots carrying four people dressed up as Lord Ram, his wife Sita, brother Laxman, and his disciple Hanuman. The chariot is followed by many other people dressed up as King Ram's soldiers. These rath yatras take place all over north India and continue for two days, accompanied by much fanfare and rejoicing. During the processions participants sing religious songs and praise the happy days of Ram's reign. Many peoples who are seeking spiritual enlightenment also attend this chariot procession as it is said to bring spiritual enlightenment and good luck forever in life.
Ram Navami 2022 dates
| | | |
| --- | --- | --- |
| # | Festival Name | Date |
| 1 | Ram Navami | 10 April 2022 (Sunday) |