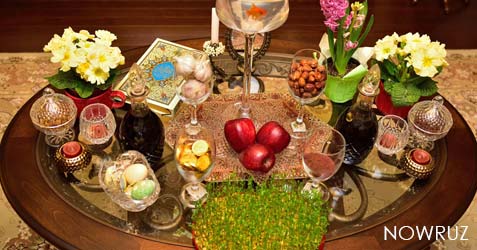 Nowruz (meaning 'New Day') is the traditional Iranian new year (Persian) holiday. Nowruz is celebrated and observed by Iranian peoples and the related cultural continent and has spread in many other parts of the world, including parts of Central Asia, South Asia, Northwestern China, the Crimea, and some ethnic groups in Albania, Bosnia, Kosovo and the Republic of Macedonia.
Nowruz marks the first day of spring and the beginning of the year in Iranian calendar. It is celebrated on the day of the astronomical vernal equinox, which usually occurs on March 21 (the spring equinox in the northern hemisphere) or the previous / following day depending on where it is observed. It is also the first day of the Zoroastrian Khorshidi (solar) year.
Parsis, the Zoroastrians of India, do not celebrate Nowruz at the spring equinox, tending to follow the Senshai calendar, which places the festival much later in the year on August 19. However the diaspora communities -the Parsis and Iranian Zoroastrians that are scattered throughout the world-tend to observe both holidays, sharing each other's celebrations.
The term Nowruz first appeared in Persian records in the second century AD, but it was also an important day during the time of the Achaemenids (648-330 BC), where kings from different nations under the Persian empire used to bring gifts to the emperor (Shahanshah) of Persia on Nowruz.
Persian mythology credits the mythical King Yima - Jamshid, the most famous of the prehistoric Iranian kings-with the creation of the calendar; as a result, Zoroastrians of Iran have given the name Jamshed-e-Nowruz, "the New Day of Jamshid", to the New Year observance.
Renewal: As winter gives way to spring, as darkness gives way to light, and as dormant plants burst into blossom, Nowruz is a time of renewal, hope and joy.
The theme of renewal is an important aspect of the customs surrounding Nowruz - personal renewal, a renewal of friendships and a renewal of the home.
Spring Cleaning: In the month leading up to New Year's Day, homes undergo thorough spring cleaning and preparations are made to set up a Nowruz table. Click here to kow more about Spring Cleaning.
The Nowruz Spread or Table: The Nowruz spread has significance to Nowruz in the way a Christmas tree has to Christmas.

The spread (often on a table) contains seven items whose names begin with "s" or "sh" - depending on the tradition being followed. Included in the spread are freshly sprouted grains as a symbol of renewal and growth. Click here to kow more about Nowruz Spread or Nowruz Table.
Gifts: Parents often give their children new clothes and other items (sometimes money in an envelope) as gifts.
Related links:
Nowruz, Nauroz
Chahar-Shanbeh-Suri
Farvardigan Days
History of Nowruz
Celebrations of Nowruz
Haji Firouz
Nowruz Spread
Spring-Cleaning
Other Names of Nowruz
Prayers of Nowruz
Sizdah-Bedar
Customs & Foods of Nowruz
Significance & Symbolism
Tradition & Mythology
Hamaspathmaidyem Gahambar
Nowruz, Nauroz 2022 dates
| | | |
| --- | --- | --- |
| # | Festival Name | Date |
| 1 | Nowruz, Nauroz | 21 March 2022 (Monday) |