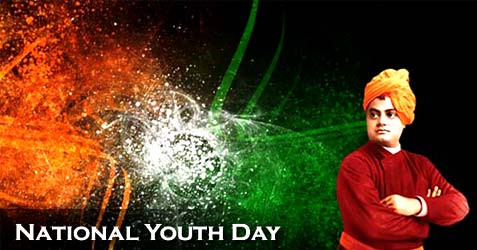 National Youth Day or "Yuva Divas" is celebrated on 12th January with great joy and enthusiasm in India every year on the birthday of Swami Vivekananda the maker of modern India. The Government of India had declared the day as the National Youth Day in the year 1984 and since 1985 this event is celebrated in India every year to honour Swami Vivekananda.
History of National Youth Day
In the year 1984, The Government of India declared and decided to observe the birthday of Swami Vivekananda on 12th January as National Youth Day every year. Since 1985 it is celebrated every year in India to inspire and encourage the young Indian youths of the country towards the way of life and ideals of the Swami Vivekananda.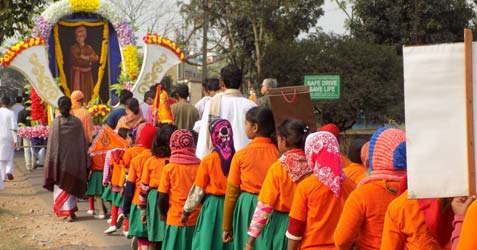 Celebrations of National Youth Day
Swami Vivekananda a chief disciple of the 19th century Indian mystic Ramakrishna was born on 12th January 1863 in the Pausha Krishna Saptami tithi. According to Indian tradition and culture his birthday is celebrated by all age groups at many centres of the Ramakrishna Math, Ramakrishna Mission schools and in some of their branches by performing Mangal Arti, Hoom, Devotional songs, Meditation and Sandhya Arti with inspirational religious speeches. The celebration is also known as the Swami Vivekananda Jayanti.
Activities of National Youth Day
Yuva Divas or National Youth Day is the day for the youths of our country. Youths or students celebrated in schools and colleges by performing the parade, inspirational speeches of Vivekananda, singing, presentations, drawing competitions, seminar, sports, Lectures and writings related to the ideas of Vivekananda.

Event organizers also organize events on this day all over the India as well as outside the country with performers to perform in order to promote the education, art and trust among the youths. There are also some youth organizations and study circles which obtain inspiration from the writings and lectures of Vivekananda.

In Uttar Pradesh an event for two days for all age groups is organized by the Mission Bharatiyam named as "Basti Yuvo Mahotsav" which features various activities. Not only the youths of our country this day is also celebrated by the government, corporate groups and non-profit organizations in their own way.

In the early morning the celebration starts with the pooja of Sri Sarada Devi, Sri Ramakrishna, Swami Vivekananda and Swami Ramakrishnananda by the Monks and devotees followed by hoom, arti and pushpanjali and at the end the Prasad distribution takes place.
Quotes - Swami Vivekananda

"Take up one idea. Make that one idea your life; dream of it; think of it; live on that idea. Let the brain, the body, muscles, nerves, every part of your body be full of that idea and just leave every other idea alone. This is the way to success, and this is the way great spiritual giants are produced."
You have to grow from the inside out. None can teach you, none can make you spiritual.
There is no other teacher but your own soul.
"In a conflict between the heart and the brain, follow your heart."
"In a day, when you don't come across any problems - you can be sure that you are travelling in a wrong path"
"The great secret of true success, of true happiness, is this: the man or woman who asks for no return, the perfectly unselfish person, is the most successful."
"All power is within you; you can do anything and everything. Believe in that, do not believe that you are weak; do not believe that you are half-crazy lunatics, as most of us do nowadays. You can do anything and everything, without even the guidance of any one. Stand up and express the divinity within you."
"The greatest religion is to be true to your own nature. Have faith in yourselves."
"Dare to be free, dare to go as far as your thought leads, and dare to carry that out in your life."
"Be not afraid of anything. You will do Marvelous work. It is Fearlessness that brings Heaven even in a moment."
"The child is father of the man." Would it be right for an old man to say that childhood is a sin or youth a sin?"
"When an idea exclusively occupies the mind, it is transformed into an actual physical or mental state".
"My faith is in the younger generation, the modern generation, out of them will come my workers!"
"Work, work, work – let this be your motto".
"Do one thing at a Time, and while doing it put your whole Soul into it to the exclusion of all else."
National Youth Day 2022 dates
| | | |
| --- | --- | --- |
| # | Festival Name | Date |
| 1 | National Youth Day | 12 January 2022 (Wednesday) |