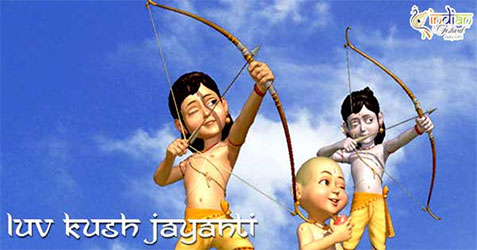 Luv Kush Jayanti is celebrated as the birth anniversary of Luv and Kush, the twin son of Lord Rama and Sita Mata. The festival is celebrated with great festivity in North India.
Although, Luv and Kush were the sons of Lord Ram and Mata Sita, they were born and bought up in the Ashram of Rishi Valmiki. The children were unaware of the fact that Lord Ram was their father and they were also unaware of their mother's true identity.

Once, when Lord Ram organized the Ashmavedha Yagna, the twins captured its horse while it was roaming near the Ashram. Upon learning about the capture of their horse, the great warriors of Ayodhya, including the younger brothers of Lord Ram, rushed to the forest to free it. Soon a battle ensued between the kids and the warriors, in which the latter were easily defeated by the children.
Then Lord Ram himself was forced to confront the kids and was soon impressed by their fighting skills. He then called the battle off and told both of them to come in Ayodhya to attend the Yagya and then he also learned that they were in fact his own children. Lord Ram asked Sita also to return back to the palace, which she accepted. But upon reaching Ayodhya, she once again pleaded to be innocent and summoned Mother Earth to take her back into her lap, after handing over the responsibility of her kids to their father. Lord Rama took Samadhi in the river Sarayu. Then Luv Kush started ruling the Ayodhya Kingdom.
The birthday of Luv and Kush is celebrated mainly in North India. As such there are no specific celebrations on this day. Children dress as Luv and Kush and episodes from their life is enacted. Other cultural programs are organized on the day. Especially Lord Vishnu is worshipped on this day. Chanting of Holy Ramayana is considered auspicious and in various places on this day.
Luv Kush Jayanti 2022 dates
| | | |
| --- | --- | --- |
| # | Festival Name | Date |
| 1 | Luv Kush Jayanti | 12 August 2022 (Friday) |