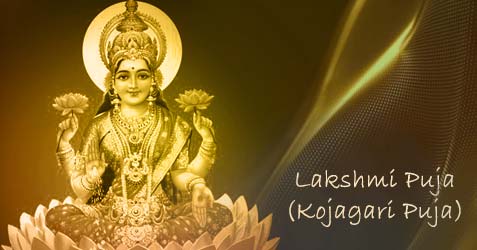 Lakshmi Puja (also known as Kojagari Puja) is a popular religious festival of Hindus that falls on the new moon day (Amavasya) of Krishna Paksha in the month of Ashwin.
In west Bengal, Assam and Orissa, people worship Goddess Lakshmi on full moon day of Hindu lunar month of "Ashwin". This auspicious day of Ashwin called "Kojagari Poornima" and Lakshmi Puja on this poornima also known as "Kojagari Lakshmi Puja". Lakshmi Puja is celebrated in every household in Bengal.
Goddess Lakshmi symbolizes wealth, prosperity and peace. Lakshmi is one of the daughters of Maa Durga. She represented as a beautiful woman, sitting on a lotus. She is also known as the consort of Lord Vishnu.

People worship Goddess Lakshmi at night of the "Kojagari Poornima" and the schedule time for the puja is well maintained by the devotees and they also cook delicious foods to offer Goddess. Khichri, Luchi, Naru are some delicacies prepared for offering to the Goddess.

It is said that Goddess Lakshmi visits homes of devotees and provide them with wealth. So a lamp is lit outside the house to welcome her.

According to folklore Goddess Lakshmi visits households asking "Ko Jagriti" means "who is awake?" and those who awake at the time are blessed with good fortune, wealth and prosperity. This is the reason why devotees awake whole night on this auspicious day.

Fasting is the most important part of this puja. Devotees keep fast for whole day and break the fast after worshiping Goddess Lakshmi and offering food to the Goddess.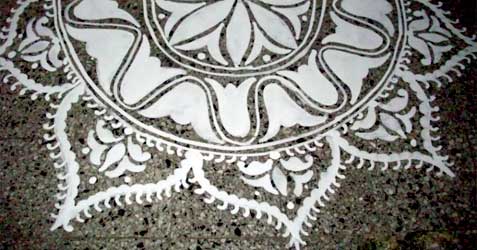 The doorways and the place where puja will be performed are decorated with beautiful designs, drawn by the paste of rice, called "Alpana"; it is one of the main characteristics of the kojagori Lakshmi puja. A pot full of rice is always kept beside the Goddess. It is symbolized the good flow of wealth in the house. Lamps and incense sticks are also lighted. As it is believed that Lakshi doesn't like noise, so only the conch shell is blown during the puja.

A Kalash or pot filled with water is kept in front of the idol of the Goddess and some rice grain and "Dubba" which is a type of grass with three twigs put under the Kalash. A "Swastik" is drawn with the paste of red vermilion and mustered oil. Place a bunch of five mango leaves in the "Kalash" and put, betel leaves, betel nut on it.
Lakshmi Puja (Kojagari Puja) 2022 dates
| | | |
| --- | --- | --- |
| # | Festival Name | Date |
| 1 | Lakshmi Puja (Kojagari Puja) | 09 October 2022 (Sunday) |