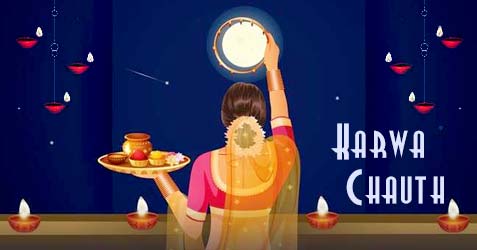 Karwa Chauth 2023
01 November 2023 (Wednesday)
Karva Chauth (Karwa Chauth) is a traditional Hindu Festival of married women, and is celebrated in India and some parts of Pakistan. Karva Chauth is a very significant festival for the women of North India. Karwa means clay pot and Chauth corresponding to the fourth. In this fast, various items including a Karwa, with a spout, are collected and worship is offered to Siva and Parvati. In principle, the fast is not to be broken until the moon is sighted at night, and an elderly woman in the house is supposed to narrate the story of Karva Chauth before the fast is terminated.
The festival is celebrated nine days before Diwali, on the fourth day of the waning moon in the Hindu month of Kartik, around October-November. A married woman who observes this vrat is called 'Saubhagyavati' (joyous and happy state of wifehood).
Married women fast one whole day without food or water for the long life of their husbands. The festival of Karva Chauth is not only a day when women pray to God for the long and prosperous lives of their husbands, but is also symbolic of their unflagging loyalty towards their spouses. The ritual signifies extreme love and devotion to the husband, as evidenced by the wife's willingness to suffer for his well being. Married women, old and young, begin their fast on the day of Karva Chauth well before sunrise, and eventually take food and water only after spotting the moon through their thali that is filled with water or through a sieve and thereafter seeing their husband's face and then break their fast. They often close their eyes in the process and do not see anyone but their husbands just after seeing the moon. The women strictly adhere to the guidelines laid down for the fast and give up food and water for one complete day.
In spite of being one of the toughest fasts, Karva Chauth is the most awaited festival of the year and is welcomed by married woman with great fervor. For a newly-wed woman, Karva Chauth is particularly special, as they get decked up in their bridal lehnga-choli. The things that symbolize and reflect the marital status of a woman, such as jewelry, bangles, henna, bindi, lehnga-choli and many other traditional gifts are in high demand on this special occasion. During the time of Karva Chauth, parents send gifts to married daughters and their children.
The festival of Karva Chauth was emerged as a day to celebrate the season of autumn and enjoy the company of friends and relatives. But later on, many mythological legends were added to give it a religious touch. This festival is glorified and widely solemnized by the Hindus and Sikh of north-western India. The festival of Karva Chauth has an extraordinary observance rate among married Hindu women in Punjab, Rajasthan, Uttar Pradesh and Gujarat. The various way of celebrating Karva Chauth varies from each other on regional basis. New clothes, new jewelery and gifts from both mother and mother-in-law are received. The wedding day outfits are worn once again, mehndi is applied and the family gathers to celebrate it with them.