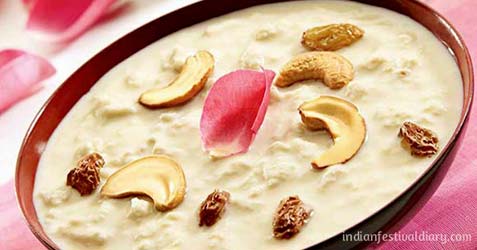 Payesh is very popular Bengali dish of Kheer. In Sanskrit, Payas means milk. Payesh is extremely a luscious dessert and can be eaten at anytime of the day. It is specially made during festivals, feast and occasions. Payesh is a very simple and easy to prepare dessert. In the southern Indian it is commonly known as Kheer in Hindi or Payasam in other south Indian languages and Payesh in the eastern areas of the country.
|| Ingredients ||
3/4 Cup Basmati Rice
4-1 / 4 Cups milk
1/2 Cup sugar
2 tbsp cardomon
12 Almonds
10-15 Raisins
|| Method of Cooking ||
Soak the rice in water for 15 minutes.
Heat the milk on medium flame. Keep on adding sugar to the milk and keep stirring.
When the milk starts to boil, add the rice slowly to it. Remember to keep stirring the milk continuously.
After about 20-25 minutes, when the milk has thickened and the rice grains have become soft, add cardamon to it and stir gently.
Remove the container from flame and add almonds sliced into half and raisins on top.
Cool the payesh and keep it in refrigerator for a couple of hours.
Offer chilled.