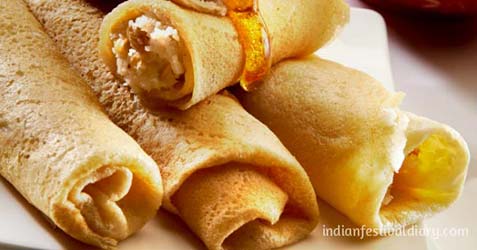 One of the most popular Durga Puja Sweets Recipe is Patishapta. Check out the Ingredients and Method of cooking Patishapta.
|| Ingredients ||
1 Cup Grated coconut
11/4 Cup Sugar
1 Cup Maida (Flour)
1 1/2 Cup Milk
1 tsp Cardamom powder
Oil
|| Method of Cooking ||
Make a dosa like batter using maida and milk.
In a wok, pour in the grated coconut and cardamom powder and cook.
When there is no moisture left add in the sugar and keep mixing constantly till all the sugar dissolves and the coconut feels slightly sticky.
Remove from fire and keep aside to cool.
Now make tiny little pancakes (dosa) using the maida batter.
Cook lightly, then spread some coconut filling on the open dosa and make a roll.