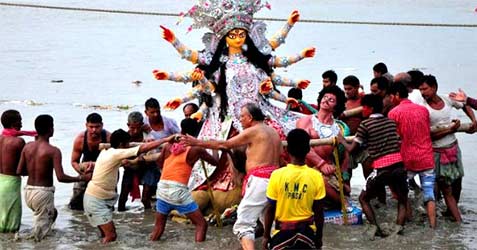 The final and last day of the Durga Puja is Dashami or Vijaya Dashami. A tearful farewell is offered to Goddess Durga as she leaved her father's house to her husband place. On this day Devi Durga is worshipped in the form of 'Aparajita' in the state of West Bengal followed by Maha Aarti, prayers and rituals which finally marks the end of the rituals of Durga Puja for the season.

A special type of Bhog called 'Shital Bhog' is made which includes Panta Vat, Kochur Sak and Ilis Machvaja during the Visarjan and the rituals of Devi Durga is performed by the priests who had been invoked during the Navapatrika is now entreated to return to her celestial abode followed by Prasasthi Vandana. During the Darpan, a small mirror is placed in front of goddess Durga and the devotees look into the mirror to see the feet of goddess Durga. There is a symbolic reason about the mirror, whenever there is a ritual bathing of Devi Durga, it is believed that the reflection of the mirror that is bathed and not the original idol.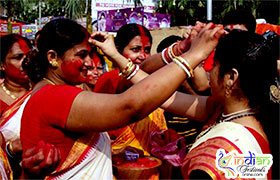 The final sending off of Goddess Durga is 'Devi Boron' which the rituals is performed only by the married women folks of the locality by performing Aarti, offer sweets, paan and finally smear her with sindoor.

After that the women folks enjoy among themselves by performing 'Sindur khela' and share sweets among the loved ones. Goddess Durga is brought out of the house or from the Puja Mandap and readied for departure for immersion on the holy bank of Ganges.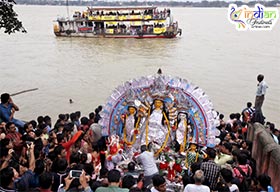 A large procession is arranged by the devotees and a grand send-off takes place during the Visarjan or Bisarjan ceremony. The idol of goddess Durga is immersed with great care chanting 'Bolo Durga Maiki - Asche Bochor Abar Eso' followed by the Vijaya ceremony or Subho Bijoya of 'Kola Kuli' by embracing each other and promises a new beginning after forgetting all the past offences. The juniors touch the feet of the seniors to seek blessings from them.