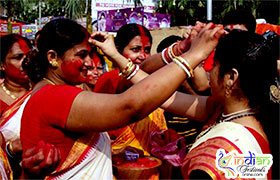 The final sending off of Goddess Durga is 'Devi Boron' which the rituals is performed only by the married women folks of the locality by performing Aarti, offer sweets, paan and finally smear her with sindoor.
After that the women folks enjoy among themselves by performing '
Sindur khela'
and share sweets among the loved ones. Goddess Durga is brought out of the house or from the Puja Mandap and readied for departure for immersion on the holy bank of Ganges.