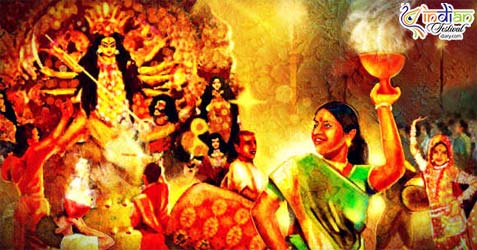 Today's most authentic form of the Durga is that of a ten handed goddess modeled out of clay astride a lion. Each of those hands carry a separate weapon in them except two, which holds the spear which has been struck into the chest of the demon, Mahishasura. The four children of the Goddess had also been added to the iconography - Laxmi, the goddess of wealth, Saraswati, the Goddess of knowledge, Kartik, the God of beauty as well as warfare and Ganesha, the 'Siddhidata' or the starter of everything in good sense.

The drum-beats are an integral part of the Durga Puja. This special variety of the drum, known as 'Dhak,' enthralls the hearts of the Calcutta with its majestic rhythm right from the day of 'Sasthi'. This drum is held on the shoulder with the beating side in the bottom and is beaten with two sticks, one thick and another thin.

The Durga Puja spans over a period of ten days in case of traditional and household Pujas, though the main part of it is restricted to four days only. The main Puja, however, starts on the evening of 'Sasthi', the sixth day after the new moon, generally from beneath a 'Bel' tree for the traditional ones. In the wee hours of 'Saptami,' the next day, the 'Pran' or life of the Devi is brought from a nearby pond or river in a banana tree and established inside the image. The main puja starts thereafter and the prime time is reached in the 'Sandhikshan,' the crossover time between Ashtami and Navami. Finally, on 'Dashami,' the tenth day from the new moon, the image is immersed in a pond or river.