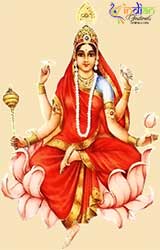 Devi Siddhidatri
Devi Siddhidatri is the ninth form of Durga Mata. The meaning of Siddhidatri - 'Siddhi' means supernatural power and 'Dhatri' means awarder. Every year Devi Siddhidatri is worshipped on the ninth day of Navaratri and fulfills all the divine aspirations which complete the mundane.

According to legends, there are eight Siddhis commonly known as Anima, Mahima, Garima, Laghima, Prapti, Prakamya, Iishitva & Vashitva. According to 'Devipuran', it is said that the supreme God Lord Shiva got all these siddhies by worshipping Maha Shakti. The half body of Lord Shiva has become Goddess and thus his name 'Ardhanarishvar' becomes famous.

Devi Siddhidatri has four hands riding on a lion. This form of Devi Durga is worshipped by all the Gods and Goddess, Rishis and Munis, Siddhas, Yogis, Sadhakas and devotees for attaining the best religious asset.