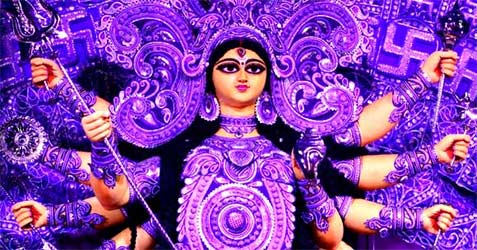 Maha Saptami is called as the first day of Durga Puja. On the day of Saptami; during the early hours, Goddess Durga is witness in 'Navapatrika' - A group of nine plants bunched together.

Navapatrika actually represents the nine different forms of Goddess Durga. The nine leaves from the nine different trees are tied up with yellow threads to the twigs of white 'Aparajita' mala and bathed in the holy Ganges accompanied by the chanting of mantras.
Another ritual is also performed called 'Pranpratistha' after the Navapatrika to divine the clay idol of Goddess Durga. The ritual is performed to awaken the spirit of Devi Durga as a warrior Goddess. From this day 'Mahishashur Mardini' Devi Durga starts her battle against demon Mahishasur to won back the heaven for Gods and to the whole world.