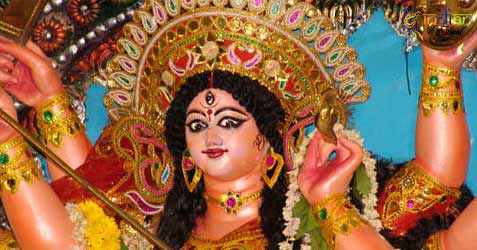 During Durga Puja, God in the form of the Divine Mother is worshiped in Her various forms as Durga, Lakshmi and Saraswati. Though the Goddess is one, She is represented and worshiped in three different aspects. On the first three nights of the festival, Durga is worshiped following Lakshmi and then Saraswati Devi on the last three nights. The following tenth day is called Vijayadasami. Vijaya means "victory", the victory over one's own minds that can come only when these three: Durga, Lakshmi, and Saraswati are worshiped.
Meaning of Durga
Durga is perhaps the most widely worshiped deity of Shakti. Maa Durga's divine characterization include entire Devibhagavatham is dedicated to her. Durga means one who is difficult to approach. However since she is the mother of universe, she is also the personification of tender love, wealth, power, beauty and all virtues.
Implications of the Idol
The complete image of Goddess Durga represent destruction of evil and protection of good and reflects the point that in order to become divine one should keep one's animal instincts under control. Thus, by worshiping Durga the idea of ruthless destruction is invoked to annihilate all the desires and unfold divinity.
Lord Rama
ln Bengal, Goddess Durga is worshiped for nine days. In South India, an altar decorated with a stepped platform and filled with small images of gods, animals, birds, and other beings, animate and inanimate, is worshiped for nine days. This altar is known as the Kolu. People re-dedicate themselves to their profession. On this day, a child also begins to learn the alphabet in a ceremony known as aksarabhyasa. This day marks the beginning of any type of learning. One offers gifts to one's teachers, seeks their blessings,and prays for success in one's new endeavors.