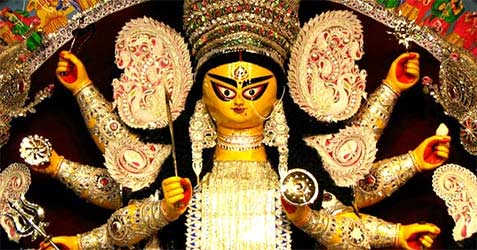 Maha Navami is the third and final day of the Durga Puja and it is observed on the ninth day of Shukla Paksha (waxing phase of moon) on the month of Ashwin. The day begins with 'Mahasnan' and 'Shodashopachar' Puja. Maha Navami starts after the Sandhi Puja on the day of Maha Ashtami and it is also considered as the penultimate day of Durga Puja.

On the day of Maha Navami, Goddess Durga is worshipped as 'Mahisasuramardini'- The Annihilator of the Buffalo Demon. It is also believed that on the day of Navami, Devi Durga killed the demon Mahishahur. Maha Navami rituals are considered as the final rituals associated with Durga Puja. The 'Maha Aarti' on this day formally considered as the end of religious customs. Bhogs and Prasad is offered to Goddess Durga and shared by the devotees after the Aarti.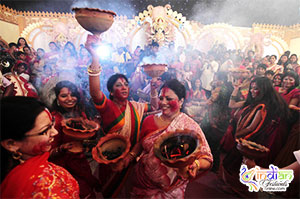 A very popular dance is performed by the Bengalis known as 'Dhunachi Dance' on the day of Maha Mavami to the accompaniment of feverish dhak rolls. Many Durga Puja committees also organize contests for the best dance, where some performers may go with as many as three dhunuchis - the third one held between the teeth. Dhunachi arati is also known as "Dhoop Aarti".
As the night of Maha Navami passes Devi Durga leave her father's house for her husband place and the next day is considered as Vijaya Dashami or the immersion of the Durga idol.