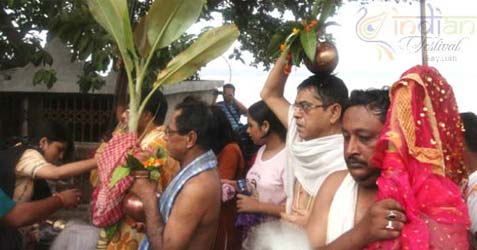 The festival of Durga Puja starts with Mahalaya, the first phase of the waxing moon in Aswin. Thousands offer prayers to their ancestors at the city's river banks, a ritual called Tarpan. The inauguration of the Goddess idol starts on Maha Shashti. The main puja is for three days - Maha Saptami, Maha Ashtami, Maha Navami. The puja rituals are long and very detailed and complicated. Three days of Mantras and Shlokas and Arati and offerings - needs an expert priest to do this kind of Puja. Because of these facts, the number of Pujas held in the family has reduced and Durga Puja has mostly emerged as a community festival.
Maha Shashti
On this day Goddess Durga arrives to the mortal world from her heavenly abode, accompanied by her children. She is welcomed with much fanfare amidst the beats of dhak. Unveiling the face of the idol is the main ritual on this day. Kalaparambho, the ritual performed before the commencement of the puja precedes Bodhon, Amontron and Adibas.
Maha Saptami
Saptami is the first day of Durga puja. Kola Bow or Nabapatrika is given a pre-dawn bath. This is an ancient ritual of worshiping nine types of plants. They are together worshiped as a symbol of the goddess. The main Saptami Puja follows Kalparambho and Mahasnan.
Maha Ashtami
The day began with a recital of Sanskrit hymns in community puja pandals as thousands of devotees offered anjali to the goddess. Kumari Puja or the worship of little girls as the mother goddess was a special part of the rituals observed in a number of traditional and household pujas. As the day wore on, it was time for the important Sandhi Puja, which marks the inter-linking of the Maha Ashtami and Maha Navami.
Maha Navami
This is the concluding day of Durga Puja. The main Navami puja begins after the end of Sandhi Puja. The Navami Bhog is offered to the goddess. This is later partaken as prasad by the devotees.
Dashami
After the three days of Puja, in Dashami , in the last day, a tearful farewell is offered to the Goddess. Most of the community pujas postpone the farewell as long as possible and arrange a grand send-off. The images are carried in processions around the locality and finally is immersed in a nearby river or lake. Vijaya Dashami is an event celebrated all over the country.