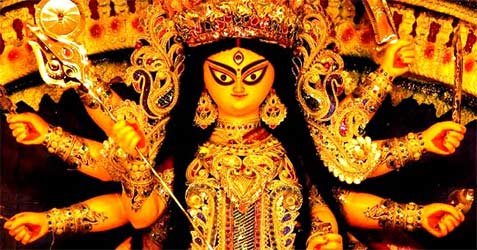 Maha Ashtami or Durga Maha Ashtami is the second day of Durga Puja. According to Hinduism, it is one of the most auspicious days of ten days of long Durga Puja Festival celebrated in all parts of India. Maha Ashtami is also known as 'Astra Puja' which means worshipping weapons of goddess Durga.
On the early morning of Maha Ashtami, the day begins with the rituals of 'Mahasnan' and 'Shodashpachar' Puja which are very similar to Maha Saptami rituals except the 'Pranpratistha'.

This day is considered as significant for all the devotees as nine small pots are installed before the idol or image to invoke the nine Shaktis of goddess Durga by the priests who perform in ritualistic ways amidst chanting of various mantras. All the nine forms of goddess Durga - Jayanti, Mangola Kali, Bhadra Kali, Kapalini, Kshama Dhatri, Siva, Svaha and Svadha are worshipped during this day.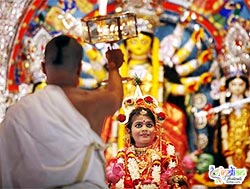 Devotees of goddess Durga offer 'Pushpanjali' in the morning of Ashtami Tithi after taking a holy bath and fasting. This is done by holding fresh flowers in their hands followed by the mantra recited by the priests. After reciting the Sanskrit mantras, everyone showers flowers at the Goddess's feet to complete their Pushpanjali.
'Kumari Puja' or the worship of little girls aged 12 to 13 are worshipped on this day and perhaps one of the main attractions of the day as the young girl represents goddess Durga in the form of Kumari.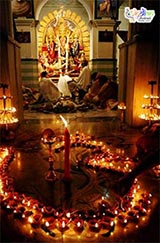 In the evening, the legendary 'Sandhi Puja' is conducted as 'Sandhya Aarti' to purifier the sins and also marks the inter-linking of Maha Ashtami with Maha Navami. Sandhi Puja is one of the most important ritual performed during Maha Ashtami. The last 24 minutes of the Ashtami Tithi - The end of Maha Ashtami and the first 24 minutes of the Navami Tithi – The beginning of Maha Navami is known as the Sandhi time or Sandhi Puja. At this time Devi Durga is worshipped as Chamunda (a form of goddess Kali who killed the demon Chand and Munda).