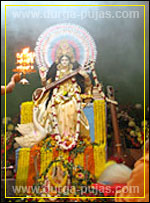 Region : Kerala, Karanataka & Tamil Nadu.
The Goddess Saraswati is worshipped as the Goddess of Learning, the deity of Gayathri, the fountain of fine arts and science, and the symbol of supreme vedantic knowledge. In kerala, on the day of Durgashtami, a ceremony called 'Poojavaipu' is performed in the evening. In a village, generally it is done only in certain households, in temples and also sometimes in the village schools. The Brahmin houses and the houses which enjoy reputation for learning, mainly take the lead in celebrating the festival. The members of other houses in the village attend the ceremony performed in these houses or institutions.

In a well-decorated room, books and grandhas (holy books) are tastefully arranged with a picture or an image of Goddess Saraswati in front. In certain poaches weapons and implements are kept by the side of books and garandhas. Then a Puja is performed to Saraswati during which fruits, beaten rice, roasted paddy (malar), jaggery etc, are offered to Her. These offerings are distributed among those present when the Puja is over.

Just before the Pujavaipu, all studies and work which mainly require skill, are suspended. The following day is known as Mahanavami and it is totally devoted to the worship of Saraswati. Pooja is performed both in the morning and in the evening. Many more items such as rice, payasam, thirali, etc are also offered to Devi.

The ten-day Saraswati festival, also known as Dussehra or Navaratri, is held between the month of September-October. It is celebrated throughout India but takes on special significance in Kerala. Young children are taken to the temples and bow before an image of a goddess-celebrated in Kerala as Saraswati, the goddess of wisdom and learning-they are introduced to the letters of the alphabet.