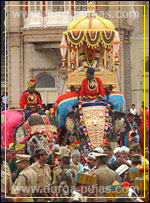 Region : Mysore, Karnataka.
In Mysore, Dussehra is easily the most popular festival. It is celebrated on a grandiose scale here. Elephants are decked up with robes and jewelery and taken in processions through the streets of the city. In fact, many people visit Mysore from all over the country to watch this colorful event. There is also a floating festival in the temple tank at the foot of Chamundi Hill and a procession of chariots around the temple at the top.

The Dussehra of Mysore or Mysore Dassara as it is famously called is a 10-day long festival. On the day of Dussehra, a procession of caparisoned elephants carrying the idol of goddess Chamundi is taken through the city. The festival is celebrated in a grand style with scores of cultural performances in the great Durbar Hall of the Maharaja's Palace. On Vijaydashami, the 10th day of the festival, a colorful procession featuring caparisoned elephants winding through the gaily-decorated streets of the city, mark the occasion.