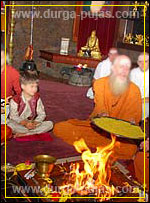 Region : Tamil Nadu, Karnataka & Kerala.
The tenth day or Vijayadasami is also the day of Vidyaramba or beginning of study when children usually begin to learn the alphabets. On the Vijayadasami day after a Puja in the morning, the Books and implements are removed from the room and this ceremony is called 'Puja Eduppu'. The time for the break up of the puja marks the beginning of learning and work. Learning and work commence at this auspicious moment.

Literates, in general write the alphabets on sand and read a few sentences from sacred books. Similarly the craftsmen and other skilled workers do some work using their implements. At this auspicious moment the children for the first time are given instructions to write the first few alphabets on rice or sand. They are thus initiated into the world of knowledge. This is called 'Ezhuthinu Iruthu' and according to custom only after this ceremony child becomes entitled to write or read.