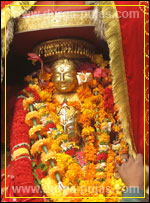 Region : Kullu Valley, Himachal Pradesh.
The annual mela or festival takes place in the Kullu Valley - also known as the Valley of the Living Gods, in North India. The festival celebrates the triumph of the God Ram over evil. The Rath Yatra of the idol of Lord Ragunath is led by the Kullu Raja and village deities, and is known as the running of the Gods. The procession starts a week of religious ceremonies, cultural activities, socializing and shopping at the huge bazaar, or market, that comprises most of the mela ground.

Dussehra at Kullu commences on the tenth day of the rising moon, i.e. on 'Vijay Dashmi' day itself and continues in seven days. The birth of Dussehra in Kullu lay in royal fads and it nourished on religious, social and economic factors and ultimately came to be well established, because of the inborn love of the hill-men for fun, frolic, displayed in community singing and dancing. Numerous stalls offer a verity of local wares. This is also the time when the International Folk Festival is celebrated.