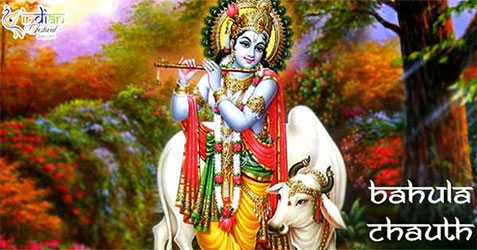 Bahula chauth is celebrated mainly in Gujrat by farming community in the auspicious month of Shravana before the Nag Panchami festival. It is observed on the fourth day of waxing phase of moon in Shravana. It is famously known as Bol Choth in Gujrat. It is celebrated as the mark of respect to the cattle for their important role in farming. It is also celebrated in Madhya Pradesh as Bahula chauth.
Rituals of Bahula Chauth (Bol Choth)
Devotees wake up early in the morning and take bath and keep fasting till the sighting of moon in the evening. They offered a simple puja to Lord Ganesha and repeat it again in the evening after taking bath and also offer milk, durva grass, supari, dhup, akshat to moon. They clean their cattle and their sheds on the occasion.

Generally 'Chauth' or 'Chaturthi' is related to Lord Ganesha but this 'Chaturthi' also famous as 'Krishna Chaturthi'. It is a very poise occasion for the devotees of Lord Krishna as He signifies the love for cattle. They offer delicacies prepared from rice and worship for the well being of their cattle. Devotees do not take milk or any kind of milk product on this occasion; people only eat food made from miiiet and cook foods outside under the sky with temporary cooking arrangement.
Legends of Bahula Chauth (Bol Choth)
There was a cow called Bahula, who was on her way to home to feed her calf but suddenly encountered a hungry lion who wanted to eat her. Bahula told the lion that she was on her way to feed her hungry calf but she promised the lion to return after feeding her calf. The lion agreed to let her go and she also kept her promise by returning to the lion. The lion was so touched by her loyalty and let her to go back to her calf.
Bahula Chauth (Bol Choth) 2022 dates
| | | |
| --- | --- | --- |
| # | Festival Name | Date |
| 1 | Bahula Chauth (Bol Choth) | 15 August 2022 (Monday) |