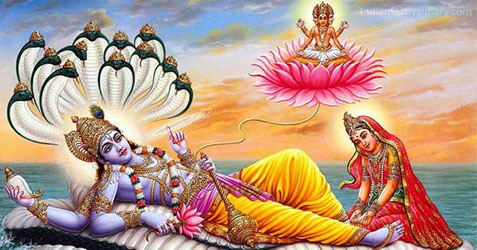 Apara Ekadashi 2023
15 May 2023 (Monday)
Ekadashi or Ekadasi according to Hindu calendar is known as the 11th day or 11th tithi of every lunar month. The meaning of Ekadashi or Ekadasi is eleven (11). It is considered as a spiritually beneficial day to the Hindus and to the Jains. According to Hindu calendar and positions of the moon, a month has 2 ekadashis, therefore a month is divided into two parts of fifteen days (15 days).
Apara Ekadashi is one such day that is observed in the second half of the month of Jeshtha (May or June) all over the country and considered as the most glorious one among all the ekadashi's observed in a year. It is believed that one who fasts on this day is considered to become free from all the malefic sins, gains happy, peace and attain moksha. This festival is mainly celebrated in Madhya Pradesh and almost everyone tries to observe fast by visiting temples in huge numbers to pray for forgiveness and frees himself from all their past sins and reserves a place in heaven. This festival is also known as Achala Ekadashi, Bhadrakali Ekadashi, Vaishakh Vadi Ekadashi and Jalkrida Ekadashi across the nation.
Story of Lord Trivikrama: Lord Vishnu is the fifth avatar of Lord Trivikrama who taught a lesson to King Bali or Maha Bali in disguise. King Bali after being granted with the Chakravarty Samrat title, he became arrogant and attacked Lord Indra to leave from Heaven. King Vishnu granted the protection for Lord Indra who took the avatar of Vamana (Lord Trivikrama) the Lord of Three Worlds. King Bali morally bound to Lord Vishnu and realized his mistakes. After that this day is celebrated as Apara Ekadashi every year.
Story of King Yudhishthir: The eldest brother of Pandavas in Mahabharata King Yudhishthir, asked the importance of Apara Ekadashi during one of his resting periods. This festival is mainly celebrated among the Hindu communities so that their past sins could wash out easily and people can easily remain in peace. Lord Krishna gave a perfect reply and this was a good example to people in modern days that maintained and observed fast on this Apara Ekadashi and realizes the benefits on an overall.
Rituals of Apara Ekadashi include fasting, pujas and yagya in temples. On this day people give more importance to the rituals and are performed dedicatedly. A person who observes this day with utmost sincerity will seek the blessings from gods. Apara Ekadashi is mainly celebrated in Madhya Pradesh and is equally important to each and every people despite of their caste and their regions from where they come from.