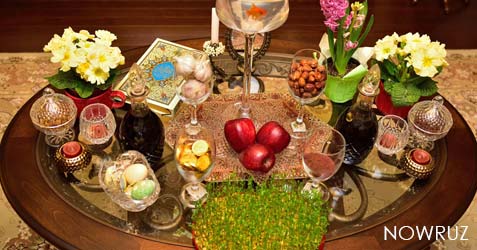 The translation of the Persian and Parsi Gujrati word for the New Year take various forms:
'Now' is sometimes spelt and pronounced, no, nav and naw.
'Ruz' is also sometimes spelt and pronounced rooz, roz and rouz. The two words are written separately, hyphenated or joined and written as one word.
It is called "Nevruz" in Turkic, Uyghurs who live in Northwestern China call it "Noruz", and it is called "Sultan Nevruz" in Albanian. In some remote communities located in parts of western Iran, the holiday is referred to as "Nuroj", which literally means New Day in the Kurdish language.
A variety of spelling variations for the word "nowruz" exist in English-language usage. Random House (unabridged) provides the spelling "nowruz". Merriam-Webster (2006) recognizes only the spelling "nauruz" (and a contestant in the final session of the 2006 Scripps National Spelling Bee in the United States was disqualified on that basis). In the USA, many respected figures in the field of language such as Dr. Yarshater at Columbia University have suggested to use Nowruz.
After spring cleaning, the home is ready for a fresh start to the New Year. The home is also ready to receive guests during the customary Nowruz visitations.
Alternative Spellings and Pronunciations for Nowruz
Alternative spellings as per Google listings are:
Narooz Nauroz, Nauruz, Nauryz, Navrez, Navroj, Navroz, Navruz, Nawris, Nawroz, Nawruz, Naw-Ru, Newroz, Nevruz, Newruz, Neyruz, Norooz, Nooruz, Norouz, Noruz, No Ruz, Novruz, Nowroj, Nowroz, Nowrouz, Nowruz
Related links:
Nowruz, Nauroz
Chahar-Shanbeh-Suri
Farvardigan Days
History of Nowruz
Celebrations of Nowruz
Haji Firouz
Nowruz Spread
Spring-Cleaning
Other Names of Nowruz
Prayers of Nowruz
Sizdah-Bedar
Customs & Foods of Nowruz
Significance & Symbolism
Tradition & Mythology
Hamaspathmaidyem Gahambar
Nowruz, Nauroz 2022 dates
| | | |
| --- | --- | --- |
| # | Festival Name | Date |
| 1 | Nowruz, Nauroz | 21 March 2022 (Monday) |